420 Goody Box – This Box Has All The Stoner Goods!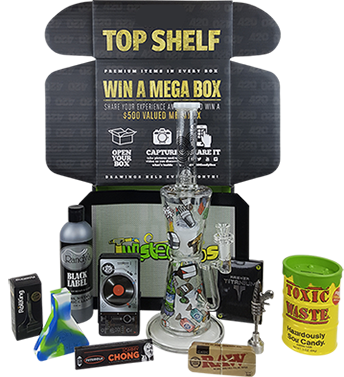 420 Goody Box
,
The 420 Goody Box offers great value and some awesome exclusive items every month, though not every month's box is that exciting. The 420 Goody Box is an all round cool box that will leave with some great little gadgets and help you slowly fill your shelf with stoner swag.
Pros
Great packaging and promos
Double the value in each box
Entry into box competitions
Awesome value with glass or vape pen
Cons
Sometimes has some pointless items
May not be enough essentials for heavy stoners
Not very exciting every month
---
The 420 Goody Box is one of the best value for money stoner boxes
420 Goody Box gets delivered to your door once a month. You get the finest selection of smokin' gear, swag, novelty items, munchies, magazines and way more! The latest connoisseur's goodies packed inside is definitely going to change your smoking lifestyle. Handcrafted by the best and most known, this 420 Goody Box contains products and supplies from the top indie brands around the globe.
When you think about "best value for money" you usually expect to get three up to four times the price you've paid and that's exactly what you gonna receive with this Goody Box! It's amazingly packed with everything you could imagine! Personally, we didn't expect so many things to pop out of this tiny, delicate Box. Blunt wraps, rolling papers, vaporizers, glass pens, magazines, you name it! However, you never know what 's going to be inside until you open it. Only then the magic happens!
Do You Goody Box company provides discreet international shipping to your door on every 20th of the month. You even have the privilege to cancel anything, anytime. How awesome is that? If only it worked that way in the banking sector…
Stoner awesomeness being delivered to you!
This awesome 420 stoner box goes for only $21.98 and is delivering over $80 in value! The Goody Box is one of our all-time favorite subscription box for stoners. You can be excited for awesome value glass products or vape pens that didn't hit the market yet.
This box comes each month filled with 5-9 stoner items that you'll absolutely love. Join one of the most loved and biggest stoner subscription box communities in the world. The Goody Box will get delivered to you each time on the 20th of the month. A brimfull cannabis box with the coolest 420 lifestyle gear and latest weed products that you can't get at local stores.