420 Loot Box – Monthly Surprise Box of Smokin' Goodies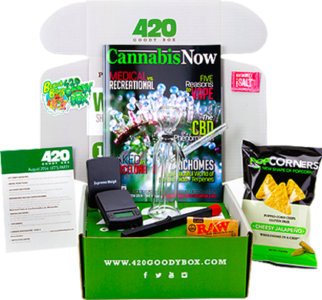 420 Loot Box
,
The 420 Loot box contains some cool items for an entry level box. But do not expect it to contain everything you need to smoke for an entire month. This 420 stoner box makes a great gift for those that do not smoke every day.
Pros
Great packaging and promos
Double the value in each box
Entry into box competitions
Very affordable
Cons
Starter pack so very few items
Items get used very quickly
Not very exciting every month.
---
The 420 Loot Pack Is Full Of Smoking Suprises
If you are looking at monthly weed boxes it is the best to think about what do you value the most about one. Do you consider yourself as a heavy stoner? Then the amazing starter box from Goody Box is what you are looking for. Let me give you a few more stunning and exciting details about the 420 Loot Pack.
The 420 Loot Box comes with all the necessary smoking products and accessories that you need. This cool little starter box comes each month for only $9.95 and is one of the cheapest boxes that we have reviewed so far for our 420Smokers community.
A Stoner Box With High Value For Low Cost
This little starter pack from Goody Box comes brim full with high quality smoking items for you to try out. Each month you will get an amazing stoner box with 4 – 8 different items for real potheads that are always in need of smoking essentials.
The Loot Pack is especially for joint rollers which tend to be always out of papers. This monthly 420 stoner pack for just $9.95 per month will make sure that you are always prepared for your daily cannabis session with new unique rolling papers and blunts from different 420 brands.
The Best 420 Gift To Get Yourself
Great as a gift for yourself or a friend which is always in need of dab sticks, rolling paper or grinder all the time. You can pretty much say that the 420 Loot Pack is for clumsy stoners that don't remember to buy papers or dab sticks.
Is there something worst than being out of rolling papers? Actually, that happened to me last week and I'm sure that sometimes a few of you have the same problem. Let me tell you that the 420 Loot Pack is solving that problem perfectly. Don't hesitate to give this monthly stoner pack a try. I'm sure that you won't regret it.