Air Purifiers For Indoor Smokers – Enjoy Clean Air with No Odor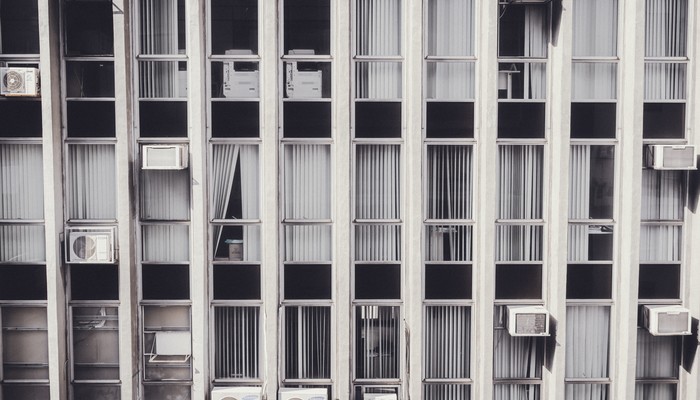 The smoke produced after smoking indoors lingers in the room for days. If you smoke indoors is a regular occurrence, then you can be sure that the smell is there, and the smell is loud.
As stoners, we become acclimated to that wonderful smell of burning weed. We become ignorant of the dropping air quality and stale smell of old smoke.
Though sploofs get rid of the odor of smoke, they can be a hassle and do not actually clean the air from harmful smoke particles. Where sploofs fail air purifiers step in.
There are a wide variety of air purifiers and cleaners that remove the odor produced from smoking indoors as well as improve the poor air quality. Keep reading to find more out about how air purifiers work and which one is best for you, or read our latest air purifier guide.
Hepa and Carbon Filters – Your Best Friends.
Carbon and Hepa filters are both effective and efficient at removing the smell of marijuana smoke while cleaning the air. Hepa stands for high-efficiency particulate air.
These filters remove smells by trapping particles in a very fine mesh. This mesh traps the smoke and eliminates odors. Carbon filters remove odors also. The carbon molecule's ability to bind to odor particles eliminates them from the air.
Below are some of the best air filters which can oust cannabis odor as well as clean the air.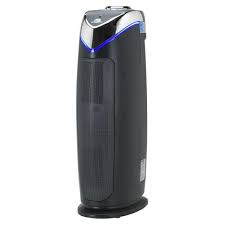 The GermGuardian AC4825 cleans the air with three different methods. It comes equipped with both HEPA and carbon filtration as well as UV-C . UV-C helps to take out odors as well as bacteria from the air.
Beyond eliminating the smell of marijuana from your room, this filter will improve your health.
The filter body stands 22 inches high making it on the bulky side. It makes up for that with its ability to cover 144 square feet.
If bulkiness isn't a problem this is a great choice for an all-around air purifier.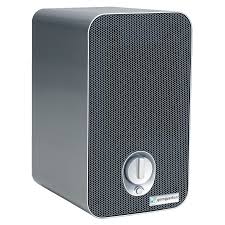 The GermGuardian AC4100 is the AC4825's little brother.
This is my personal favorite and the one I use in my own home on a daily basis.
It comes equipped with HEPA, carbon, and UV-C but in a smaller more compact package.
The AC4130 is a souped up version with a night light built into the top providing a trippy effect perfect for any smoke room.
The trade off for the smaller version is less coverage.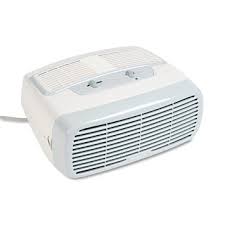 The Holmes HAP242-NUC filters the air through a HEPA filter.
With less features, it costs less making it one of the most affordable options.
You can also buy other filters for the Holmes HAP242-NUC.
One contains activated carbon and other materials perfect for eliminating the smell of smoke.
This filter eliminates odors and filters the air in rooms up to 110 sq ft.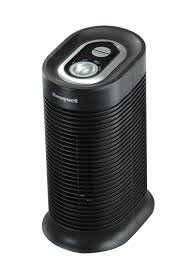 If the GermGuardian tower purifier's size is too much, the Honeywell HPA060 is the perfect alternative.
As a compact tower purifier, it stands at only 17.5 inches.
Its small size allows placement on desks or nightstands.
With an activated charcoal pre filter as well as a HEPA filter this compact tower vape covers up to 75 sq ft.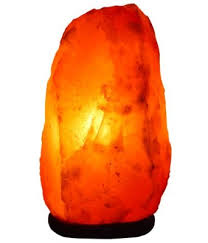 For those who prefer the natural, there is the crystal rock salt lamp.
The natural crystal cleanses the air through the unique power of the ions present in the mineral.
Crystal rock salt lamps do not have the ability to cut out odors to the same degree as the other air filters on this list.
They do possess real air cleaning effects and make a nice centerpiece to a coffee table in a smoke room. I
have heard that Crystal Rock Salt Lamps help to improve the mood and I can say from experience they do add a nice mellow vibe to any room.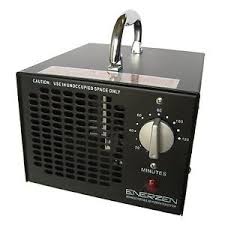 If you must remove odor from a room the Enerzen Commercial Ozone Generator can handle the job.
Ozone reacts the molecules it comes into contact with eliminating them from the air. Without these particles, there is no odor.
Ozone generators never need filter changes like the other filters on this list. Instead, liquid ozone disperses into the air from the generator.
Ozone generators cause health problems if ran for too long. Be careful and educate yourself before using an ozone generator for odor control.
Don't tolerate a stuffy and smelly room any longer.
Find the best air filter for you and enjoy getting high in clean fresh indoor air.
Latest Blogs: