Anthony Vapor Bubbler – Cheech & Chong's Dab Rig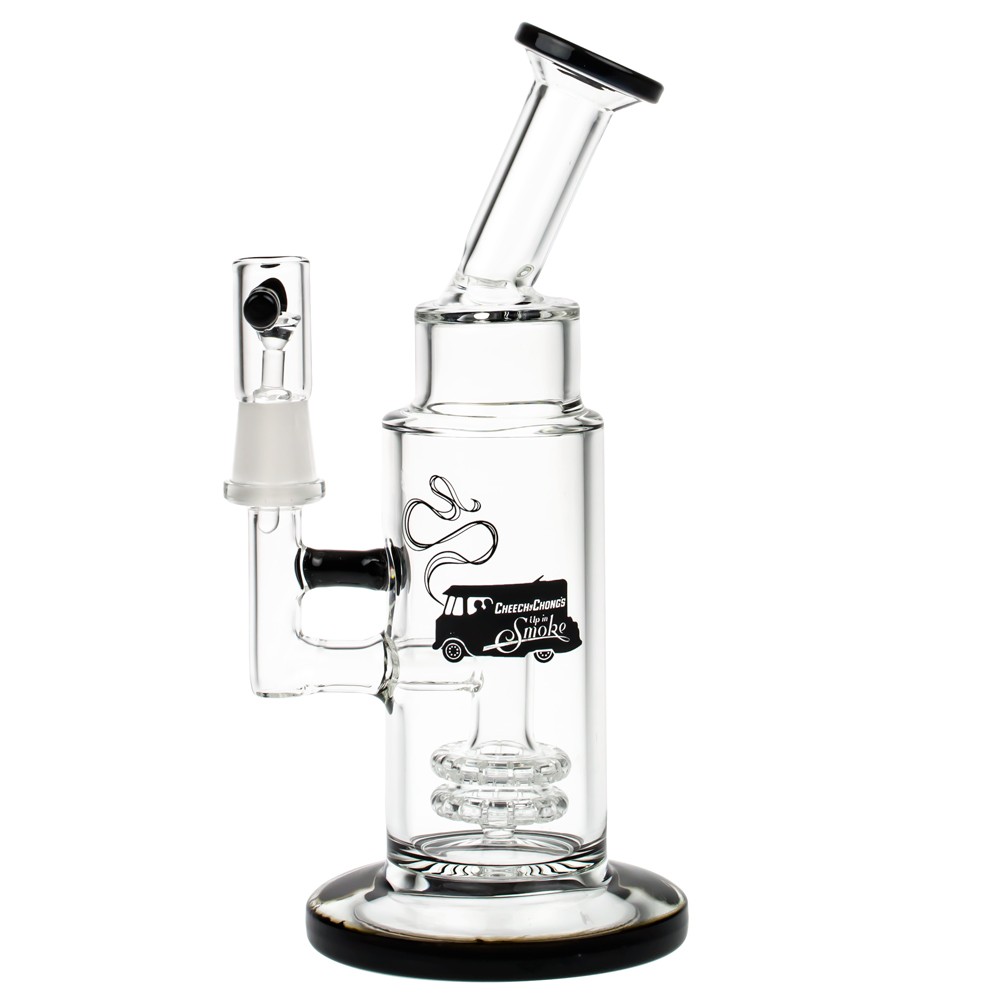 Anthony Vapor Bubbler
,
Famous Brandz is one of these smoke companies that straddle the line between novelty items and real gear. Their product's featured brands are Trailer Park Boys, Snoop Dogg and, the product we're looking at today, Cheech and Chong.
Pros
Glass for easy cleaning
Pin heating system
Shower head filtration
Great value
Long lasting build quality
Cons
Not portable
Needs regular maintenance
---
Cheech and Chong's Anthony Vapor Bubbler is a reasonably priced Borosilicate glass vapor bong designed with the smoker in mind.
Ideal for a quick smoking session
It's a cool looking bubbler, with apple green or candy red highlights on the complex looking glass design. The base is super thick whilst the overall weight is surprisingly heavy. The male stem is 14.5 mm wide and is reinforced by an extra piece of glass. I can't help but think that Famous Brandz doesn't trust us not to drop this on a session and have designed it to withstand a beating. The extra-reinforcement particularly is a nice touch on an area that is usually the first to go during long-term ownership.
Included in the package is a glass concentrate nail. It's handy to have everything ready to go straight out of the box, but I think I'd look at upgrading the nail sooner rather than later. Glass nails are all well and good for the first few weeks but constant heating causes them to shatter, or color, quickly. Ceramic or Titanium is a better option but, for less than a hundred bucks, the glass will do just fine.
The right choice for beginners
One of the problems with regular vaping is the harshness on the throat. This bubbler has two shower-head percolators so, as you draw, smaller bubbles are pulled into the water for better filtration. They've stacked each above the other which helps deliver a smooth, cool hit; especially if you heat the water before use.
It's altogether a neat looking unit that's sturdy with a few clever reinforcements. The mouthpiece is curved at the edges with smooth cool glass. Its chamber seems a little larger than most of the Cheech and Chong products available right now which means you can deliver bigger hits.
Although some parts can be dismantled, most of this unit is made from 2 internal pieces. The upshot of a design like this is that it tends to be sturdier. The downside is that it's more difficult to clean, especially when it comes to the corners. If they could improve this product, it would be making it possible to fully deconstruct. Again, it's a minor bugbear that will only become a problem with long-term usage.
So, I see this product fitting in nicely as a party piece or a backup smoker. If you're new to vaping this is a great product to get you started because it won't be too harsh- on your wallet or your throat. For those that are connoisseurs the technology on show here may be a little basic. All smokers will love the build quality which is thick sturdy and shatter-proof.