Atmos STUDIO E-Rig – A "Must-Have" For Cannabis Lovers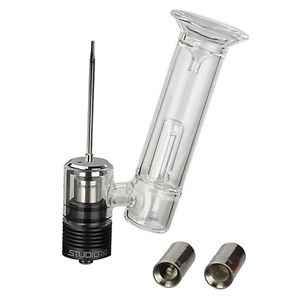 Atmos STUDIO E-Rig
,
Recently the leading brand AtmosRX introduced one of the best e-rigs called the Atmos STUDIO e-Rig. This is a great product and it is compatible with dry herb and concentrate.
Pros
It is portable
It is not as expensive as similar products
The product is versatile, as it can be used on a wide range of products
It is durable
Cons
Some users complain of larger attachments
---
A Stoners Must Have
The company made the product highly affordable so that those who cannot afford those expensive e-nail products can buy it. This does not suggest that it is an inferior quality. It is one of the superior quality e-rig products you can lay your hands today.
This product comes with all the necessary kits and accessories such as 25 millimeters chamber base. This is an important part of the product because this is why you can get your box connected using its 510 thread.
Secondly, it features a glass attachment. This is where the water is filtered, and it cools down the vapor as you dab.
There are other important items such as the:
Ceramic dry herb nail
Titanium concentrate nail
As well as the magnetic card cap and the user manual
It is designed in such a way that you are not going to find it hard to assemble the various parts. All you need to do is to assemble the four main parts, which includes the glass, the e-nail, the base, as well as the carb cap. These parts are not difficult to assemble. It looks solidly constructed when fixed and you can always refer to the user manual for guide.
Filling the system with water is not difficult. It takes just a little quantity of water and administers through the glass piece. This has to be done separately, meaning that the glass has to be separated from the attachment.
An important advice here, ensure that you take the water away from the battery or any other hot component.
The water ensures that toxins and harmful substances within the water are removed. It ensures a better vapor quality. You can use the e-rig on concentrate, as well as dry herb as stated earlier. The studio heats faster than similar devices and this can be attributed to its bigger than the normal e-nail.
The vapor quality is also the best for concentrate and dry herb. The e-rig is portable, meaning that it is good for those who want to dab outside the house.