Best Weed Grinder Guide For Stoners in a Hurry: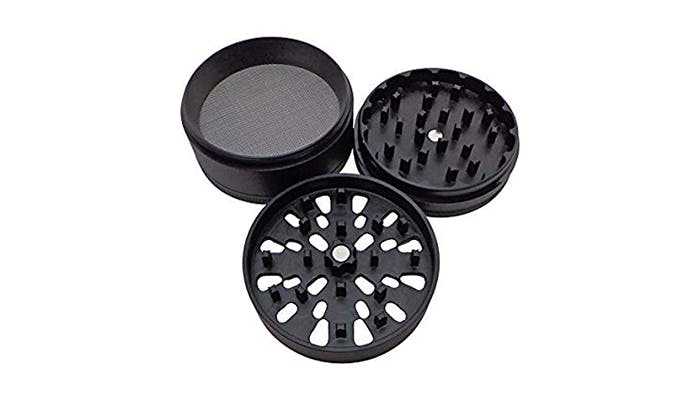 Santa Cruz Shredder
$ 58.75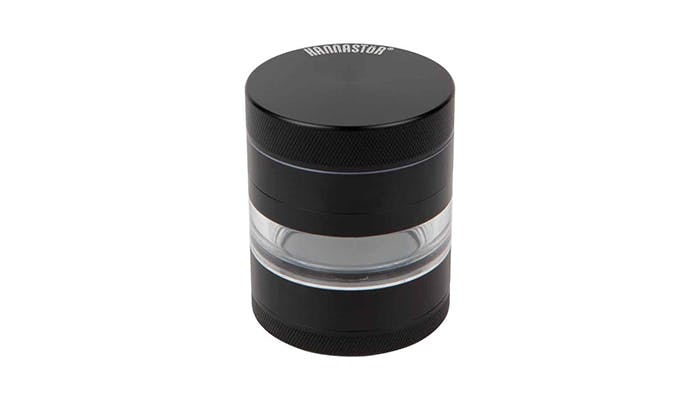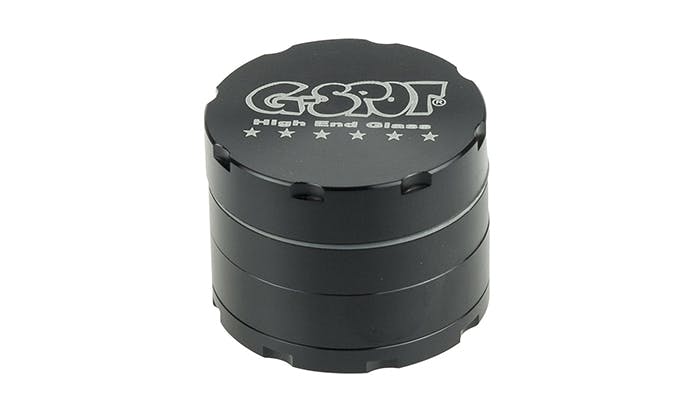 Which weed grinder?
Everyone's got a weed grinder, so if you're here, you're probably looking to take your setup to the next level. But what should you look for in an online herb grinder. Despite seeming like a simple tool, there's a lot of complexity and thought that goes into making these products, so knowing your nylon rings from your earth magnets is well worth the time it takes to learn.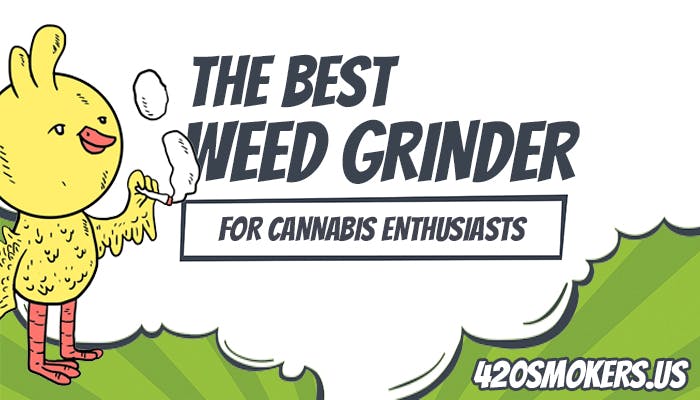 Features are something that you might not expect from something as simple as a herb grinder, but they can make a huge difference. When you think of a herb-grinder the likelihood is that you're thinking of a standard 2-part grinder. These normally feature diamond teeth, gripped and magnetic lid which can be picked up for less than $20 bucks.
The second type of grinder is a 4-part grinder. Normally with the same diamond shaped teeth, you'll find an extra layer with a mesh net and well beneath it, that can be separately screwed apart. The mesh net filters the ground herbs, pollen into the well beneath, letting you store up premium-grade with each grind. Normally, you'd expect to pay over $20 bucks for a good quality 4-part herb grinder. A grinder is always a good stoner gift idea.
Special features usually cost more but are well worth it. Unique formations of grinding teeth, for example, work well on stickier products. A nylon ring reduces the friction as you turn and prevents the grinder from getting stiff over time.
Then, there's the flashy stuff like glass windows (which come in useful in wet weather) and pressure plates (lawnmower type blades). These features can push the price way up to the $50 mark and should be seen as an investment.
Finally, materials which are 99% of the time aluminum. Very cheap grinders will come in plastic but you really can't expect more than a year's use before they wear, becoming sticky and blunt (not that type of blunt!).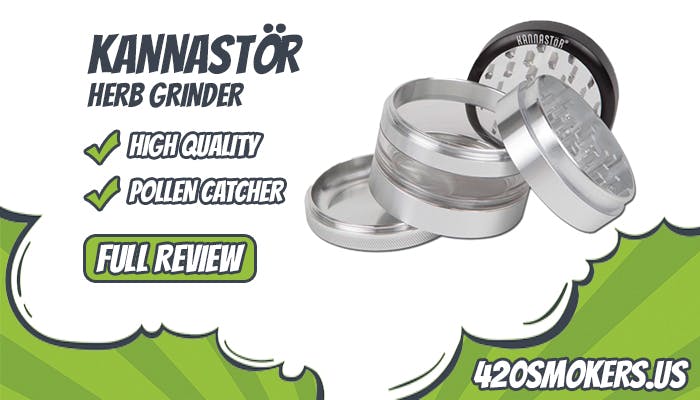 Join the 420 Family!
Get the Latest Content, Guides & Deals.
In Your Mailbox Weekly.
1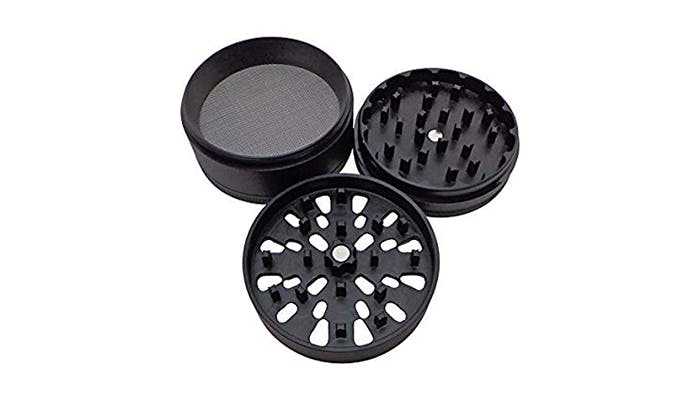 Santa Cruz Shredder
$ 58.75
2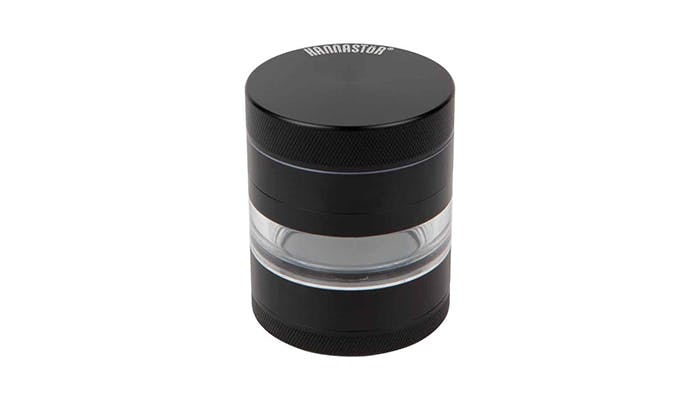 3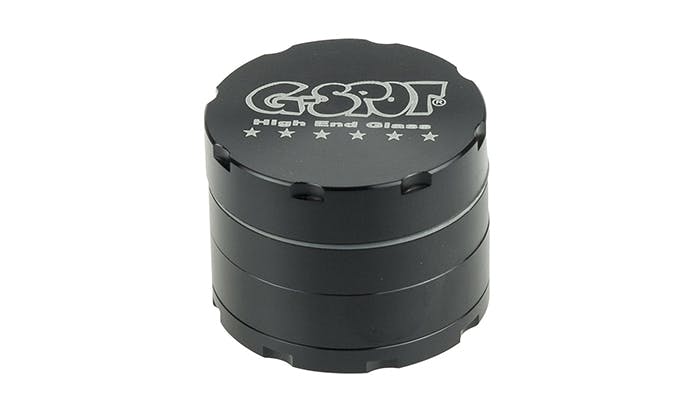 4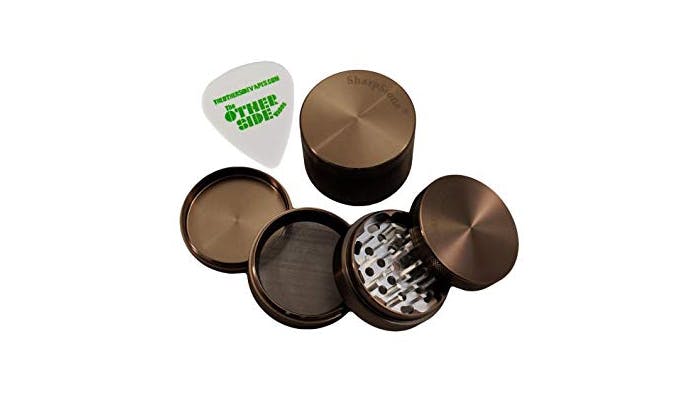 SharpStone Grinder
$ 18.75
5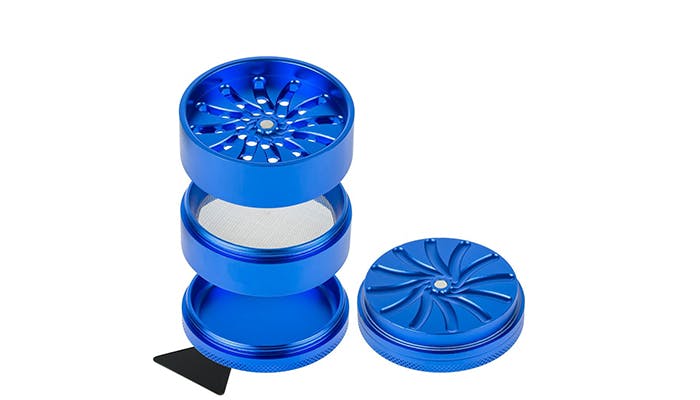 6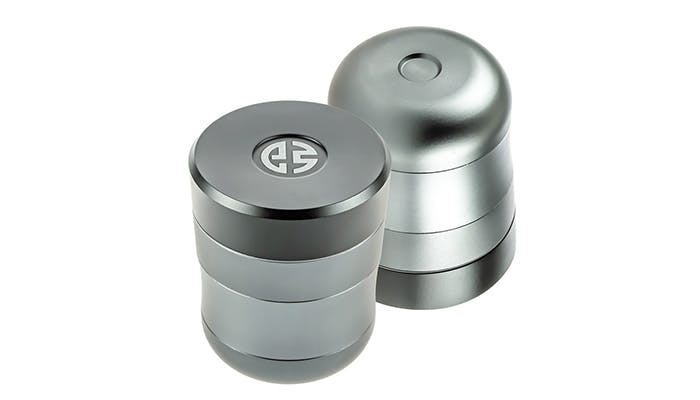 Differences between herb grinder brands:
Well-known brands make better quality products, but lesser knowns tend to be a little cheaper as you're not paying for the name on the lid. Broadly speaking there are those that innovate, like Kannastor, and those that do the simple stuff well, like Santa Cruz.
Beyond that there's not a huge amount of difference brand-wise so you should always look at the features rather than the brand-name.
Things to consider:
When looking to buy herb grinder online some things to take note of are:
How much of an investment you're looking to make
Is it for a primary grinder, or one that you want to carry out with you
Nylon ring, magnetic lids and grips
Whether you want a 2-part or a 4-part grinder
How much/ how regularly you intend to use it.
Other things to remember are:
Innovations, like teeth shape, formation and threading
Material quality: metal is a must
Special features like glass windows
Warranties if you're investing more
Reasons to shop for herb grinders online:
Wondering why you should order online rather than shooting down to your nearest store?
Wide Rage – The range is much larger online
Save Money – You'll tend to get a cheaper product online
Always Stocked – A clear layout of the features
No Test Needed – No need to test the grinding power instore
Trusted – Trusted reviews from online customers
Herb Grinder F.A.Q's:
What is a nylon ring and what does it actually do?
– Nylon is one of the most resilient materials on the planet. When you're grinding your creating friction on the threads of the grinder. Over-time this causes the material to wear which can make it more difficult to turn or create an annoying squeak. Nylon is a low-friction material. That means it will wear down far less than a standard metal will, despite consistent grinding.
Are rare earth magnets worth it?
– If you're investing in a 4-part grinder, yes. Earth magnets have a stronger magnetism which means if you're storing pre-ground herb and going out with it in your pocket, it's less likely to fall apart. Earth magnets are by no means essential.
Glass windows: Gimmick or necessity?
– Glass windows look cool, and it's nice to be able to witness the grind. They'll come in useful if your using it outdoors in particularly wet or windy conditions. Beyond that, it's more a style feature than a necessity.
Most important feature?
– For me, it's the teeth. This is the part of the grinder that is responsible for doing the job you brought it for. Most will have diamond shapes, but if you can get one with a unique formation of those teeth it will pay dividends in the long run.
Should I always get a warranty?
– Grinders are fairly robust by nature, so a warranty isn't an absolute must. That said, if you're making a large outlay you might want the piece of mind.
You can find good weed grinder everywhere but online you will be able to get them way cheaper. A good grinder can save you a lot of time when you grinding your marjiuana.