Black Leaf Masher Aluminum Grinder – Pure innovation in Herb Grinder Technology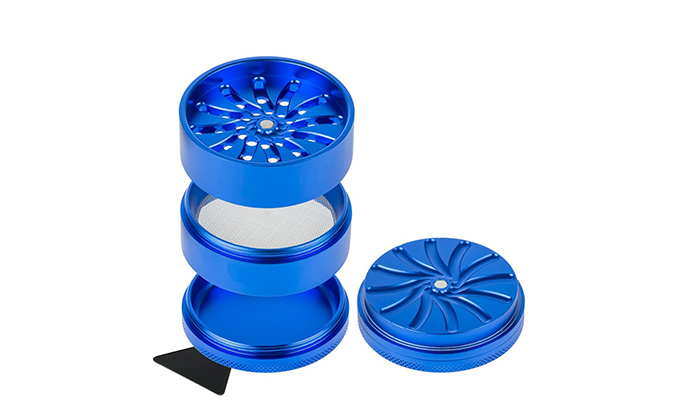 Black Leaf Masher Aluminum Grinder
,
You think you know what the inside of a grinder looks like, and then along comes a Black Leaf grinder. Innovation is the name of the game here, most notably in the triangular, curved teeth named pressure plates. The closest resemblest is to a lawn-mower blade, and this 2.5 inch, 4-part herb smasher doesn't disappoint when you're chopping up the stickiest herbs.
Pros
Innovative pressure plate design
triangular herb scraper
Nylon ring for reduced friction
Mesh
Cons
A little heavy on the wallet
Difficult to clean
---
A weed grinder we've never seen before.
We love it when a manufacturer comes out with a product we've never seen before. That's the case with Black Leaf's 4-part grinder. Using pressure plates rather than teeth to smash the stickiest herbs and leave a sand-like powder sitting on the mesh board. Everything else is standard-fare for a premium grinder: nylon friction ring, magnetized lid, pollen catcher and embossed aluminum finish.
This grinder comes with great features
Let's talk about those pressure plates. The two discs push the herb together then, as you turn the grinder, they slice and dice your herb. It's an innovation we haven't seen before and were mighty impressed with. That said, you can run into difficulties with cleaning between the blades. I'd imagine as resin builds up over time that could become problem.
Sturdy aluminum
It's all built from sturdy aluminum which is a major plus. The magnetized lid sticks well, especially if you're bouncing around with it in your pocket. We also liked the addition of a nylon friction ring alongside gripped edges that make it possible to grind in even the most difficult conditions. A top grinder come wind, rain or shine.
Value for money
So apparently pressure plates come at a price, and that's around $25 making this one of the more expensive products we've reviewed. That said, it's well worth a try if you're looking to upgrade your long-term setup. I can't see this breaking anytime soon, although resin build up could become an issue as the years roll by.
Join the 420 Family!
Get the Latest Content, Guides & Deals.
In Your Mailbox Weekly.