Top 10 Cannabis Gifts every stoner would like to get for Christmas: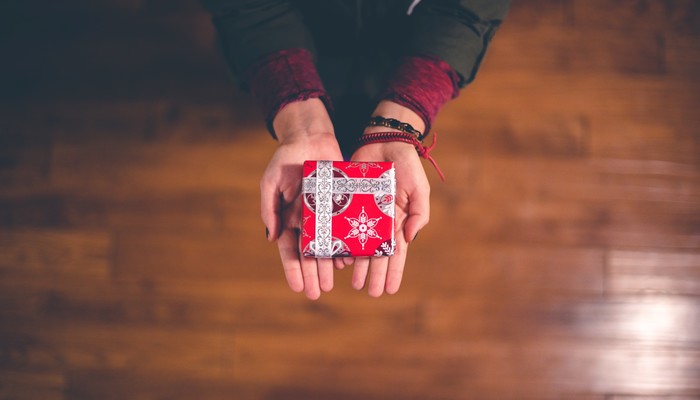 Christmas is here again and what a year. Time to spread some joy with Cannabis gifts. Earlier in 2016, cannabis legalization in America reached a tipping point: Medical cannabis became legal in half of the 50 states making this year a special stoner Christmas for most Americans. Needless to say,the public sentiment toward marijuana also has been growing to the point everybody has close friends and/or a family member who uses  cannabis for either medicinal or recreational purposes. We all know stoners love Christmas and it is the perfect time to spoil someone with weed related gifts. With this in mind, and taking into consideration the following holidays, 420Smokers present you the ultimate…
10. RAW Rolling Tray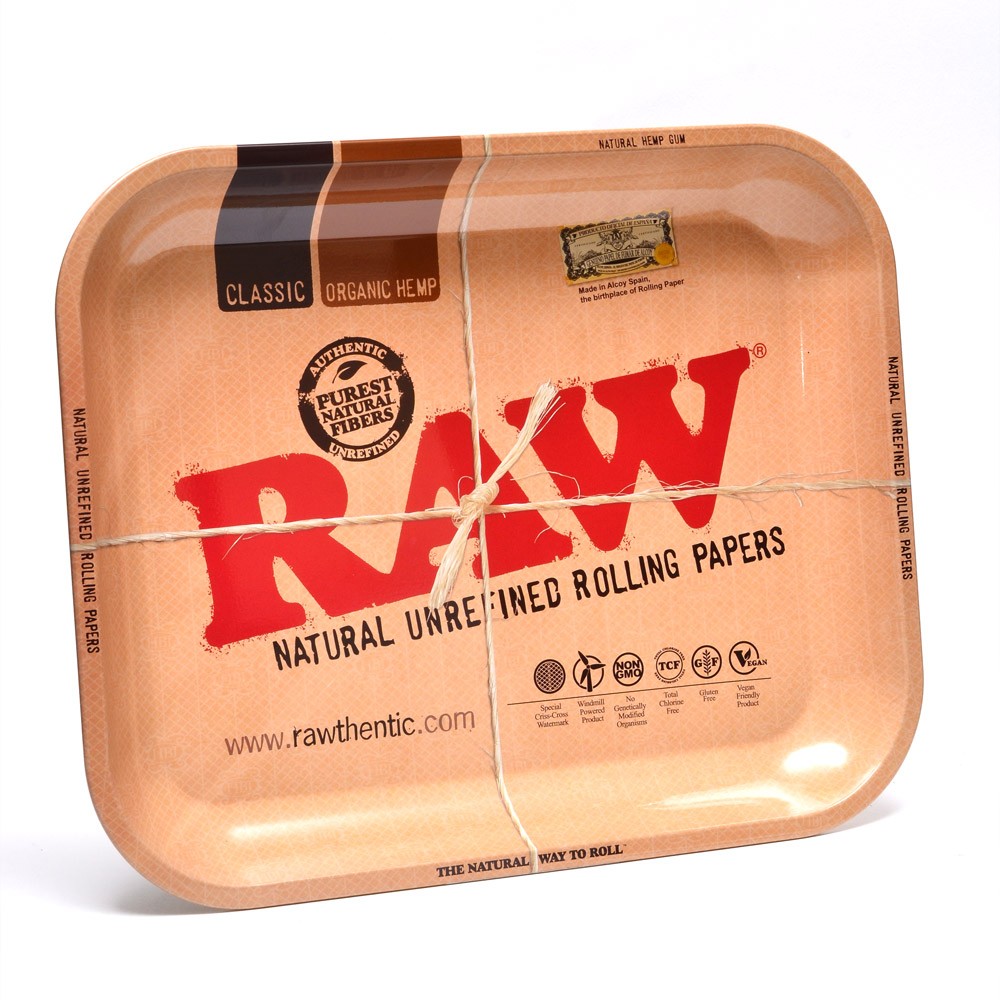 It's the simple things in life that make the biggest difference – the sunshine in a stormy day, the patter of rain on your window as you smoke your spliff , curved edges on your rolling tray so you can roll every last little piece of herb into your cigarette. Simple, but yet so satisfying, and they make all the difference sometimes. That is why the Raw Rolling Tray and Gift set makes it on to our top 10 cannabis gifts every stoner would like to get for Christmas.
9. A grinder is stoner's best friend!
Cannabis doesn't come broken down already and you have to go trough the process manually. Quite unexciting, right? Wrong. With an awesome grinder you will love the process. Best of all grinding a bud  lets you smell and appreciate each nug before you break it down. So, every stoner needs an awesome grinder which will save a lot of time and most importantly – kief! If you have decided to get yourself the new weed grinder of your dreams or getting one as a gift for a stoner friend or family member, chances are you will enjoy using it! Check some of our featured grinders below:
Black Tie Grinders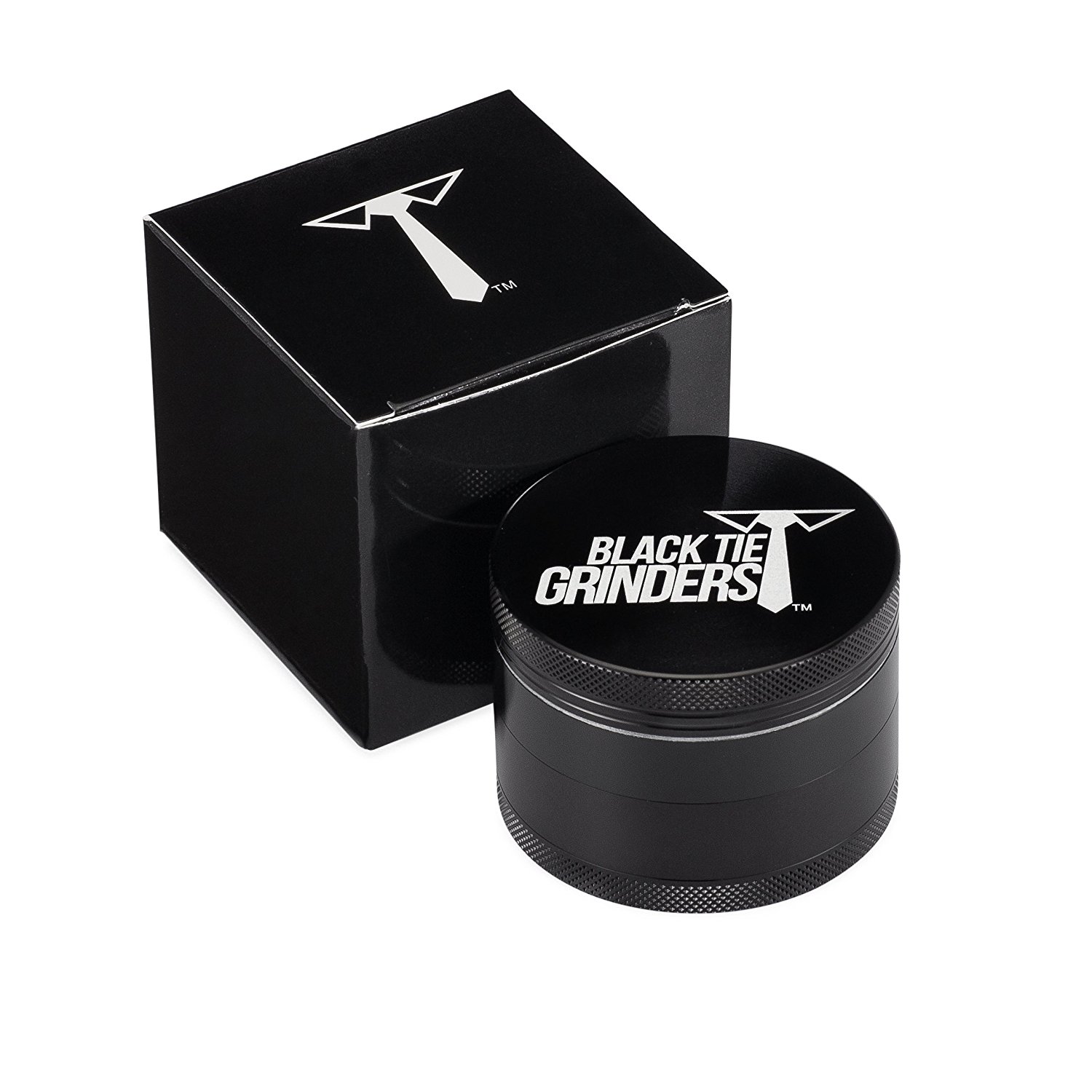 The Black Tie Grinder has fifty diamond shaped teeth that work to create an even and fine grind, as well as thirty-two holes that work to filter herbs evenly. The 4-piece, three chamber design allows perfect conditions for filtering of cannabis. If you looking for something classy as a marijuana gift for Christmas this may be it. At $27.99 on Amazon it may be on the pricey side but good grinders stay with a person for a long time and are well worth it.
Golden Gate Grinders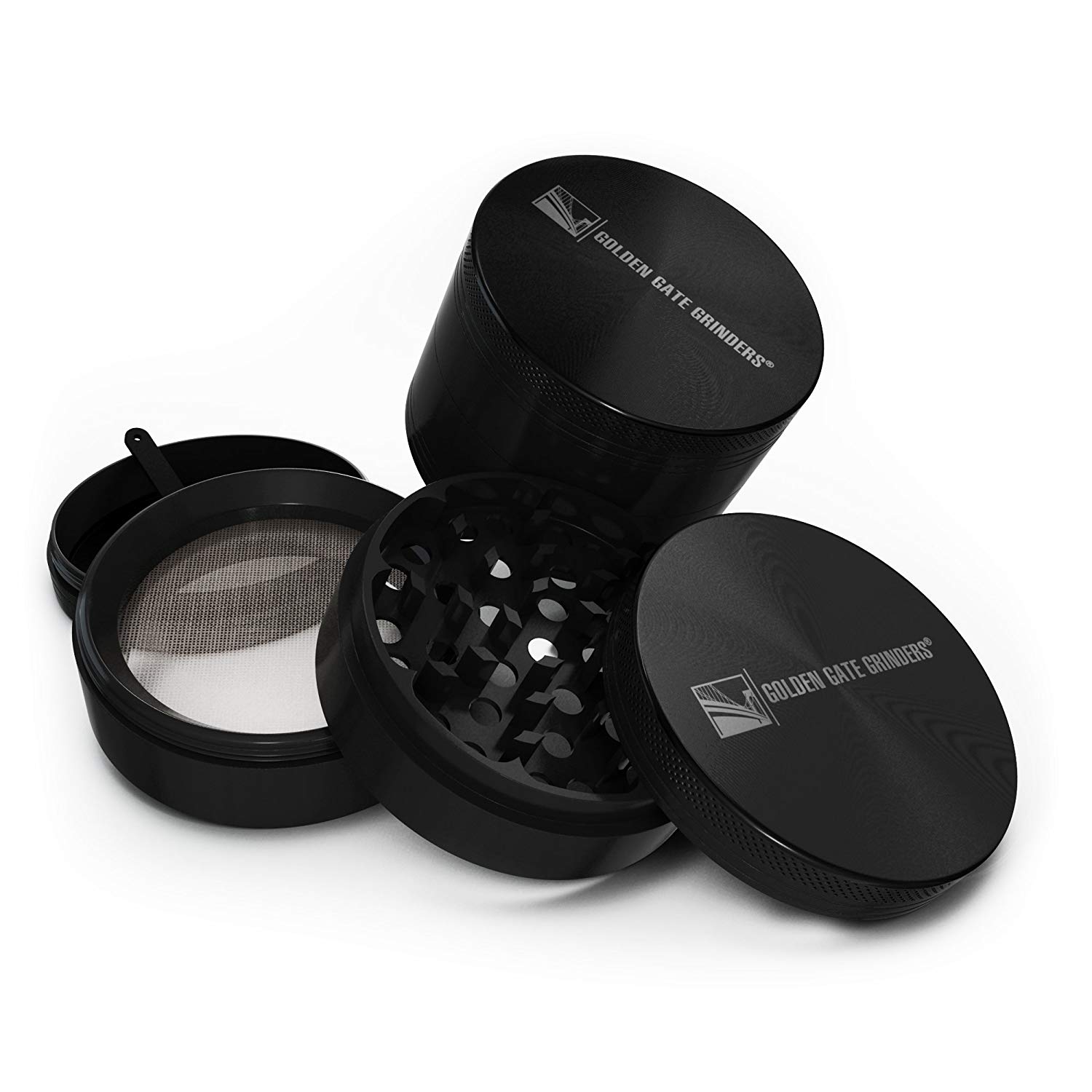 Golden Gate Grinders are made with premium aircraft-grade aluminum, precisely machined on computerized CNC machines. This top quality four piece grinder with comes with  micron stainless steel mesh for filtering out kief. We loved the finish and craftsmanship of this fine grinder. At $18.99 on Amazon we think this grinder is a pretty sweet deal.
Death Star Grinder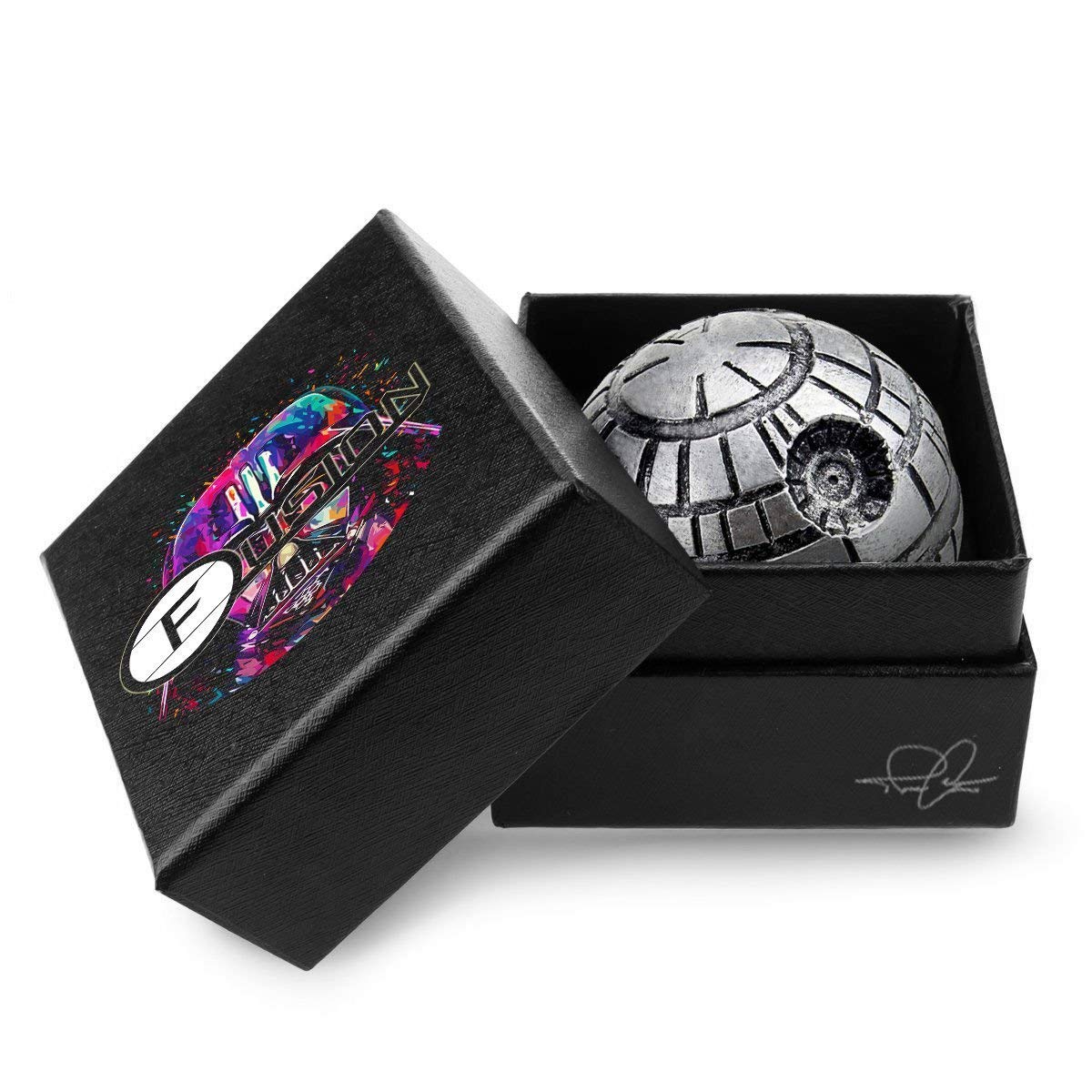 Fusion presents a stunning grinder for fellow Star Wars fans out there! This hand-crafted grinder has been designed to be a conversation starter. Even though it's just half the size of a smartphone, none of your friends and family will be able to ignore this eye-catcher.
This piece of art is definitely something every Star Wars fan would be glad to have! The affordable price of the grinder at under $10 on Amazon would make it even more preferable cannabis Christmas present. May the force be with you!
8. Gas Mask Bong!
People say "If we all had a bong, we would all get along!" and they ain't wrong! After all, who wouldn't take a big fat hit from the bong on any given occasion especially from the gas mask bong?  Surprise your friends and family with a nice water-pipe gas mask and bong and they'll make sure that you're invited to their smoking sessions. If you give this to someone on Christmas as a cannabis gift make sure you ready to have a nap and not need to make a Dinner with the fam as it will know you out! At just shy of $40 on Amazon The Gas Mask bong is a winner this green Christmas.
7. Cannabis Pop-Top Stash Jar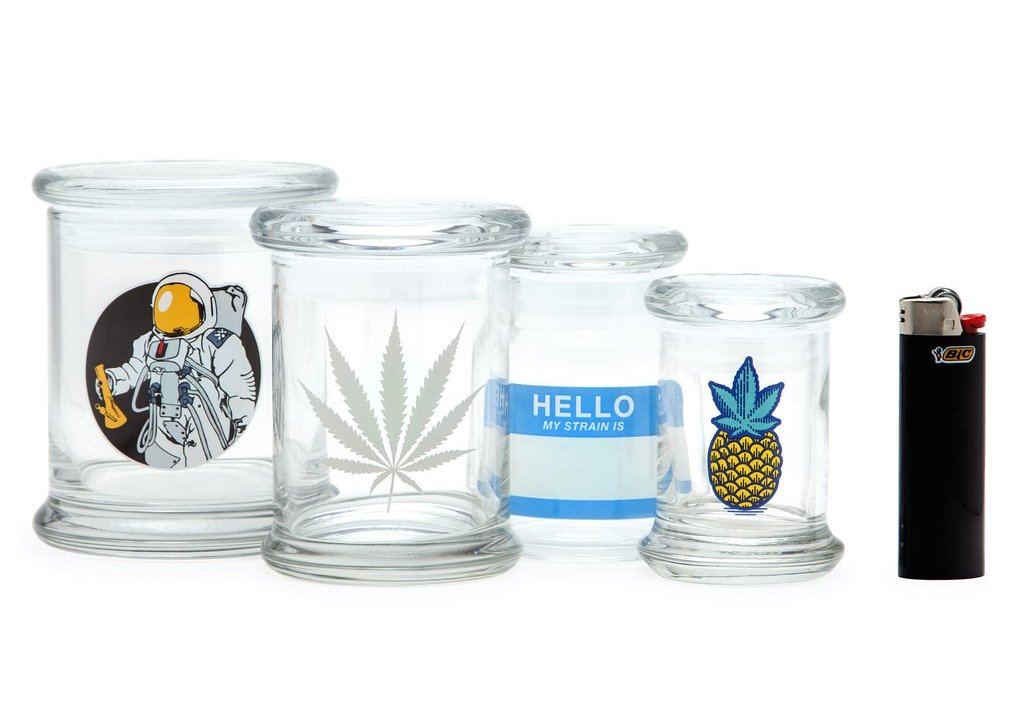 An airtight container that preserves your buds fresh! The Pop-Top jar would be a perfect little upgrade to your smoking arsenal. It will keep the moisture away, maintaining the great high and epic flavor of your nugs for prolonged period of time.  It also makes an awesome cheapish gift that every stoner would love to get. Buy a couple and these bad boys can be given as cannabis gifts for Birthdays, Christmas or any occasion. They come in various sizes starting out at about $8. 
6. Car Air Purifier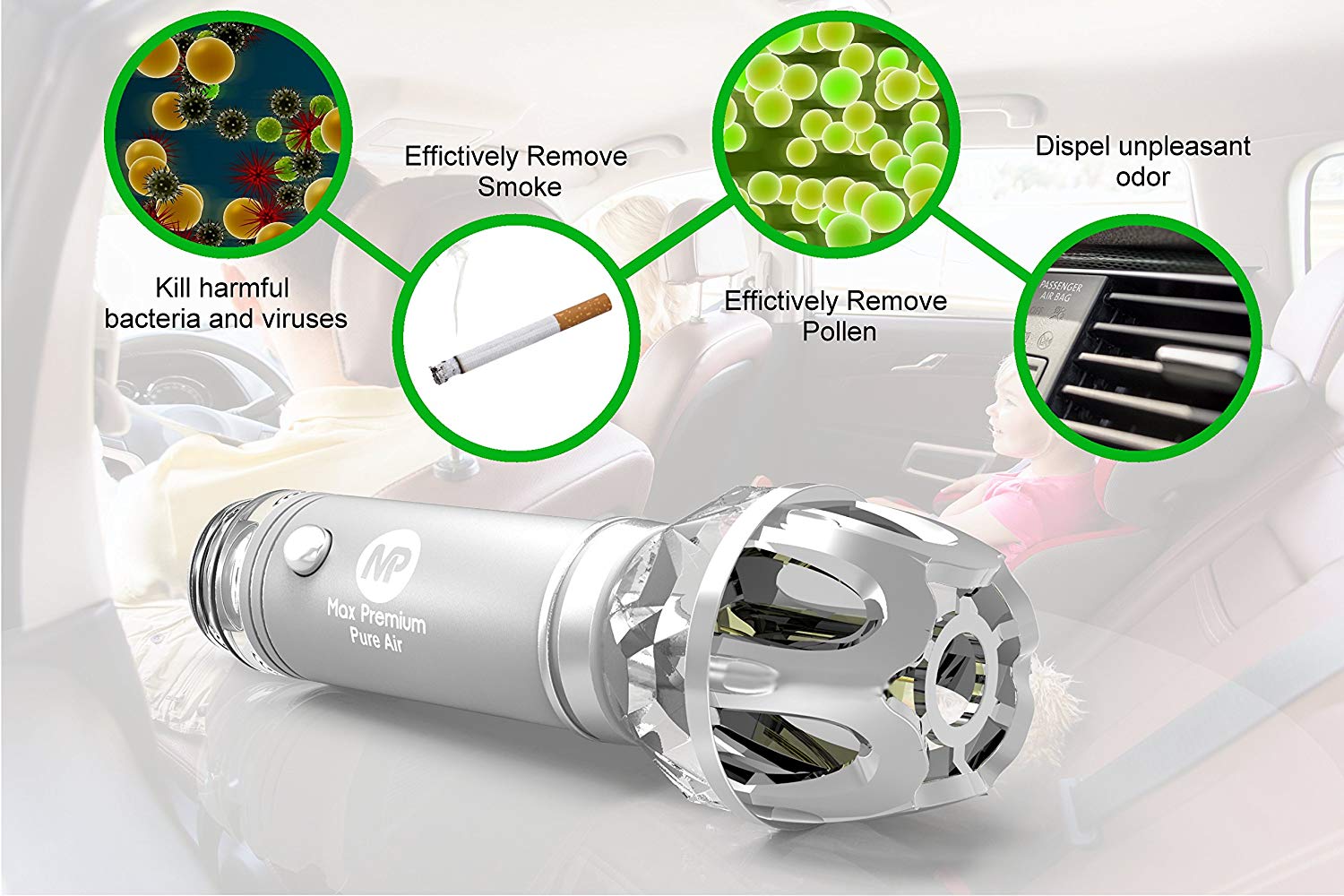 As more than 85% of the marijuana-related arrests are occurring when you are near or inside of a vehicle. Therefore we strictly recommend you to have a closer look of this amazing piece of technology.
Pure-Air Car-Ionizer uses an electrical charge to make a flow of negative ions which then removes minuscule particles from the atmosphere, enhancing the air quality in your car. An ion is basically a particle that is charged, either negatively or positively. The ionizer creates negative ions which seek out positively charged particles, such as dust, dander, microbes, pollen, germs, smoke, bacteria, and other allergens.You can plug directly into your cigarette lighter socket and this gadget will begin to remove the cannabis smell from the inside of your car. Or as a cannabis gifts for friends.
Although a good air ionizer will do what it is designed to, it won't actually filter anything, and you could find yourself dealing with a dark coat of dust, pollen, and whatever else clinging to every surface inside your vehicle. Thus  don't forget to open the windows to let it out! At $15.88 on Amazon , not a bad price as a cannabis gift for those that get loud in the car.
5. Cannabis Books
Everybody loves a nice book! Furthermore, if it's educative and focused on a topic you enjoy, it makes it even more awesome while reading. Hence we're sharing with you some of our suggestions for a good read: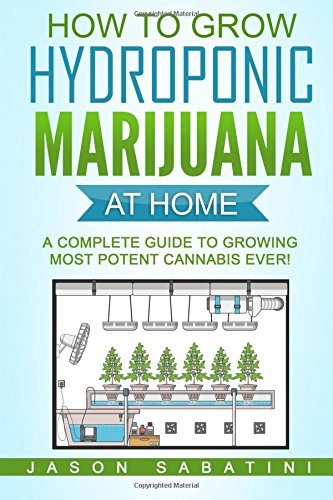 You will learn:
Understanding Hydroponic Marijuana
Why Hydroponic Marijuana is the most Potent
Basics of Growing Hydroponic Marijuana
5 Popular Indoor Growing Methods
Preparation You Need to Take to Grow Hydroponic Marijuana
Tools you need to get Started
7 Step by step instruction for Growing Hydroponic Marijuana
How to use proper Fertilizers and other Nutrition
How long it takes to Harvest
The proper way to dry
How to Cure
How to Properly  Store Them for Long Term
Jason Sabatini produces this incredible book, uncovering the most efficient methods to master the practice of growing cannabis with hydroponics. The essentials of this "water working" technique are precisely described in  76 pages. A small book full of knowledge. In either case, one of the best picks in the niche. Grab it here for only $11.87.
We love giving weed books away as Cannabis gifts as all our friends and family love to read. In the same fashion, we continue with another one of our favorite cannabis reads and perfect cannabis gifts for stoners:
Marijuana Grower's Handbook: Your Complete Guide for Medical and Personal Marijuana Cultivation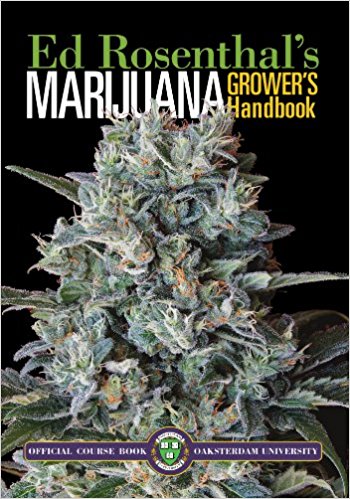 "Marijuana may not be addictive, but growing it is."
— Ed Rosenthal
Mr.Rosenthal surely has a point here! "The Marijuana Grower's Handbook " shows both beginners and advanced growers how to grow the biggest most resinous, potent buds! Ed Rosenthal is the world's leading expert on the cultivation of marijuana. His books have sold well over a million copies and his most recent edition of "Marijuana Grower's Handbook" (500 pages book of full-color photos and illustrations) has revolutionized the field. In addition to that, just check what Tommy Chong has to say about the author of this brilliant guidebook:
"Ed Rosenthal holds the distinction of turning more people on to pot than Cheech and Chong."
What a statement coming from one of the most influential figures in the canna world! In other words, the most suitable cannabis-related gift for somebody with a passion for growing. If you only own one book about cannabis, this is the one to have! Get it for only $23.52 and grow like a pro! A perfect cannabis gifts idea for your friends that need a lesson or two in perfecting their bud or getting the first grow started.
4. Handmade wooden humidor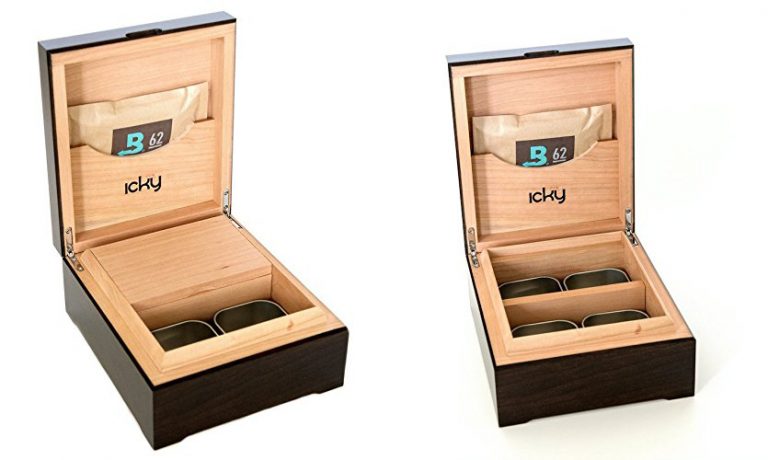 55% – 62% RH – The best relative humidity(RH) to store cannabis.
In the first place, why exactly between 55% – 62% RH? Studies have shown that cannabis will retain a higher cannabinoid and terpene content when this range of moisture is present for a prolonged period of time. In few words: great high and epic flavor! If you know someone or you are that kind of person who is constantly worrying about his weed getting dry and losing its effectiveness, maybe this tiny wooden box would finally bring joy to you and your closest people.
Either way, If you looking for top quality Cannabis gifts for high-end friends that have it all look no further.  The Icky Box XL 2.0 keeps your herb under perfect conditions , focusing on functional design and balanced humidity for the home. It holds up to 3.5 grams of herbs per tin container (14 grams total). The airtight box comes with individually packaged Large Boveda 62% pouch which contains 60g of moisture control gel. At $84.99 the Icky Box XL 2.0 is for serious Cannabis gifts only!
We know how important freshness and taste are for your top shelf collection as we share with you this very useful product. Make sure to separate strains so they're not touching each other. Some strains have strong aromatic compounds that can affect each others' tastes if they brush against each other. Keep your weed and your Christmas mood on point with this!
3. Pax 3.0 Vaporizer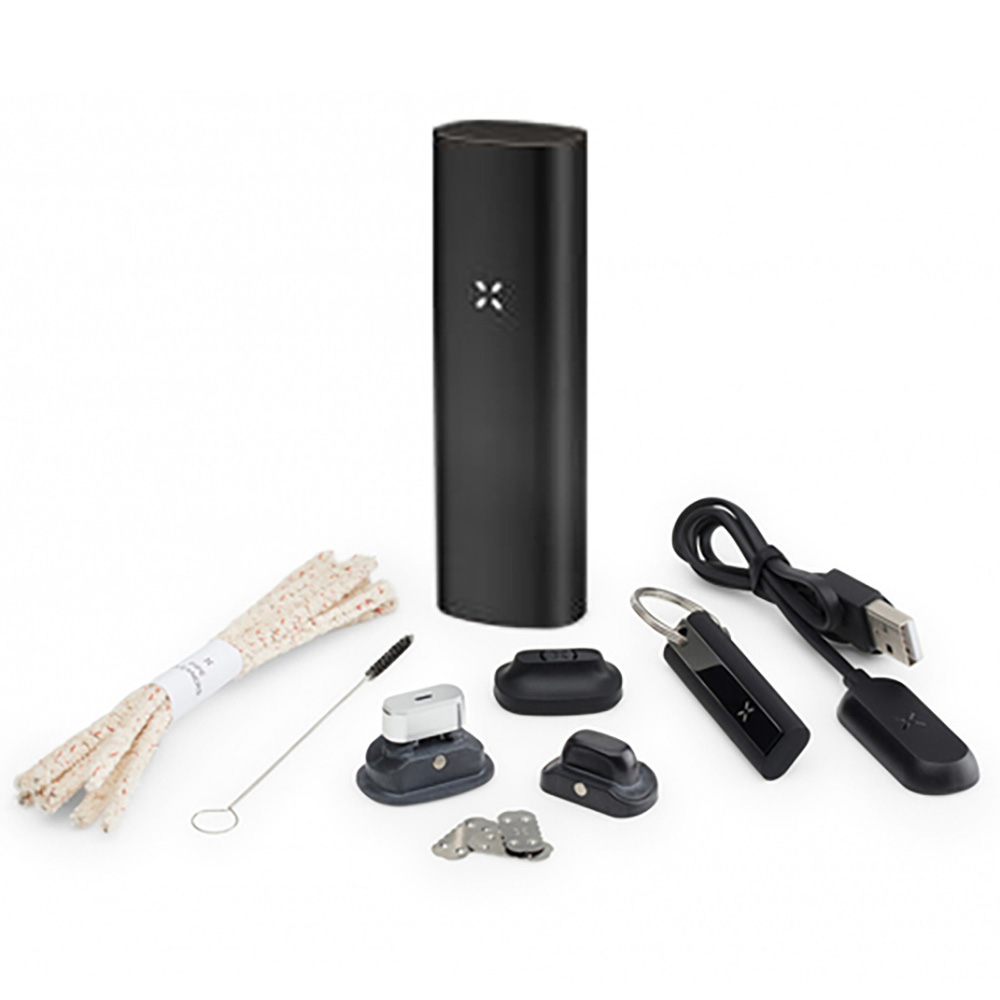 The Pax 3 is the most stunning designed and, without a doubt, one of the best portable options on the market. We even reviewed it as The best marijuana vaporizer in 2016 hands down! Coming from PAX Labs, Pax3 is the third generation dry herb and concentrate vaporizer of the very popular Pax line and it continues to improve while remaining faithful to what made the Pax so popular in the first place: elegant look and feel, followed by the ease of use.
The featured LED indicator is going to let you know the three different temperature settings showing different colors.: 370 °F with a yellow light, 390 °F with an orange light and the highest setting is 410 °F with a red light. You can check your battery life as well by simply shaking the vaporizer.When it indicates green – full battery, yellow means you have a weak charge and red, as you can assume, the battery is low. Pax 3 surely comes with a price tag but many people say it is well worth the investment. Pocket-friendly and stylish, Pax 3.0 Vaporizers is one of the best ways to lit somebody's stoney Christmas spirit!
2. Hydroponic Grow Tent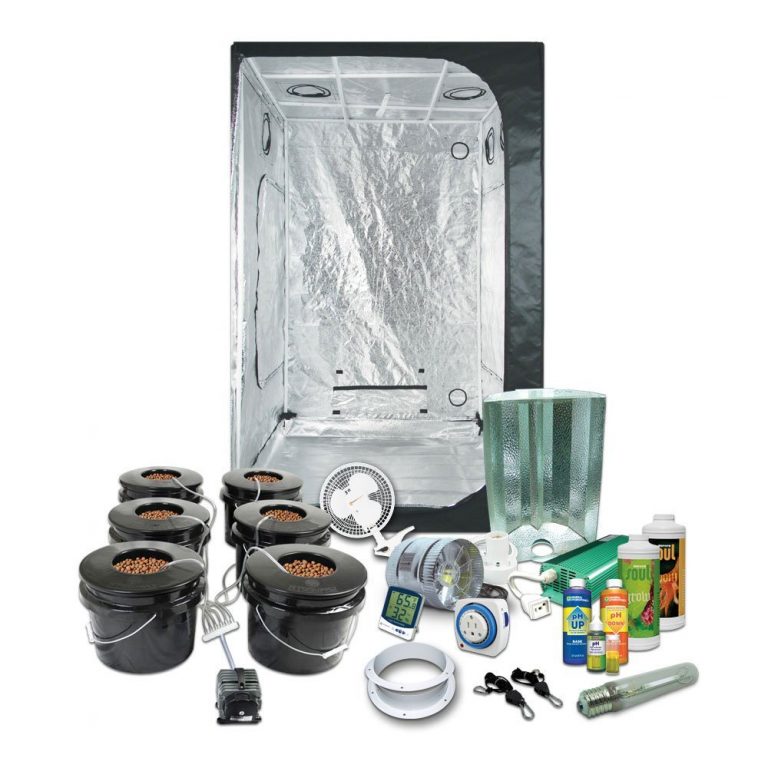 Kit Includes:
AgroMax Medium grow tent,
Digital Greenhouse 600-watt complete HPS grow light with bulb,
pair rope ratchet grow-light hangers,
120v single-outlet mechanical timer,
GrowBright thermometer/hygrometer,
6″ inline fan and flange kit,
6″ clip-on circulation fan,
Bubble Brothers 6-Pot DWC hydroponic systems,
bottle Soul Grow 1-quart,
bottle Soul Bloom 1-quart,
GH pH control kit
Deep Water Culture, otherwise known as Direct Water Culture or DWC, is a simple but effective hydroponics system that works by suspending the plants' roots directly into a highly oxygenated nutrient solution. DWC systems are proven to be very effective, easy to construct and operate. They are an ideal choice for those of you who are new to hydroponic cultivation. The growth rate of marijuana becomes double when hydroponics method is used. The plants of marijuana will grow much healthier and faster in the hydroponic system as compared to the traditional soil base growth of plants. The kit comes with individual equipment instructions. That is exactly what every stoner dreams of – all equipment necessary to start growing cannabis indoors. Cannabis gifts don't come better than this on Christmas.
And that tops our top 10 Cannabis gifts every stoner would love to get for Christmas!
From the perfect rolling tools and stash boxes to keep your stash fresh to growing your own, these are on my Santa list. Let us know in the comments below what you would love to get for as Cannabis gifts this Christmas.
Join the 420 Family!
Get the Latest Content, Guides & Deals.
In Your Mailbox Weekly.
Latest Blogs: