Cannabox – Weed T Shirt And Pop Culture Box Monthly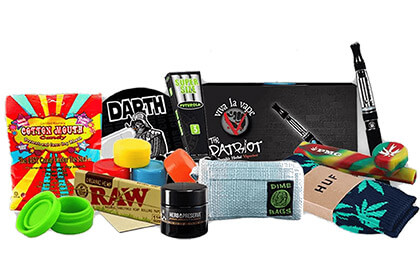 Cannabox
,
Worth the price of the stoner T-Shirt alone, the Cannabox is a cool stoner box. It contains a lot of really fun gadgets and items you may not find in other boxes though may leave you light on essentials such as rolling papers.
Pros
A quality stoner t shirt in each box
Over $40 in value
Special Edition items and exciting themes
Cool things you may not find at your local shop
Cons
Few essential items like papers
May not suit heavy stoners
Sometimes the stoner tee designs are not fantastic
---
The Cannabox Is Our New Favorite
This mystery monthly 420 box rocks! Each month you will get a Cannabox filled with awesome and always new exclusive smoking items. Here is why we love this monthly stoner box.
The Cannabox comes brimfull each month with smoking essentials for stoners, gear, apparel from movies, games and your favorite TV shows. For less than $20 you will get an amazing 420 subscription box with items for over $40 in value. We love this weed box as it more packet with cool stuff for stoners than only weed gear.
Great Value Delivered To Your Door
Treat your friends and yourself better with a smoking gift that will leave you amazed always when you getting your next Cannabox. Every month your Cannabox will arrive between the 20th- 28th full with 420 goodies for you to try out.
A Cannabox comes with 6-9 brand new items for you to test, also in each box is a stoney t-shirt included. Be one of the first ones to try brand new stoner products before they even hit the local stores or you can find them on the internet.
Stash bags, grinders, rolling papers, cannabis merch, vape pens, glass products and freaky munchies that we didn't even know that they existed. This stoner subscription box is clearly one of the best you can get for your money. It is focused more on the culture and being a funky Cannabox with different crazy themes each month which makes this box fun for every stoner.
A Monthly Stoner Box With New 420 Essentials
I have mentioned above already that you can get cannabis products before they hit the stores in this box. The Cannabox includes exclusive products from well known established brands and start-up companies.
Each month the Cannabox comes with a new exciting theme that will leave perplexed in a good way.