CBD Oil for Horses: Things You Need to Know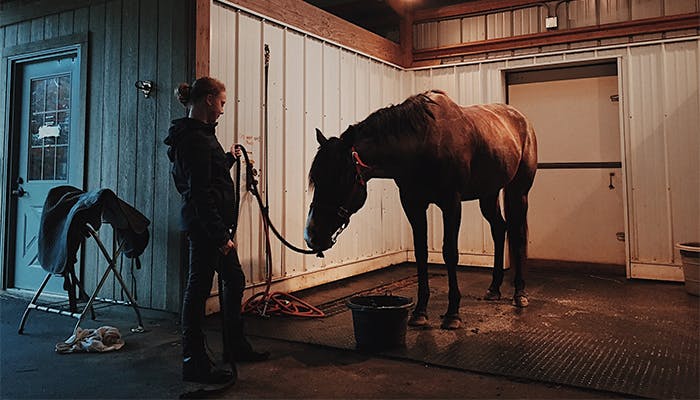 CBD for horses is a new major trend that has bombarded the pet industry. Now more than ever, horse owners are flocking towards using cannabidiol as part of their recovery and training supplements. CBD does indeed have plenty of benefits, so if you'd love to learn more about how CBD can help your horse, read on.
What is CBD for Horses?
Cannabidiol aka CBD has long been used to treat a variety of ailments in both people and pets. In dogs, CBD can be used to treat conditions such as arthritis, obsessive-compulsive behavior, and even anxiety. Similarly, horses too can benefit from a daily dose of cannabidiol.
Cannabidiol itself is one of many cannabinoids found in cannabis aka marijuana plant. Cannabinoids are naturally occurring chemicals that interact with the endocannabinoid system of a mammals body.
Before we dive in any further, it is important to remember that the endocannabinoid system plays an important role in regulating our physiology. For instance, this system regulates our sleep patterns, pain, appetite, and even responses to pressure.
Benefits of Using CBD Oil for Horses!
CBD for horses is jam-packed with a multitude of benefits. In its very essence, CBD can:
Act as a weak antagonist of CB1 receptors. This interaction results in analgesic (pain-relieving) properties
Cannabidiol acts as an agonist of CB2 receptors. This interaction results in anti-inflammatory effects.
Finally, cannabidiol can decrease the rate of decomposition of a protein called anandamide. In doing say, cannabidiol can thus improve symptoms associated with anxiety and other mental illnesses.
That being said, CBD horse pellets can be beneficial to horses and ponies that suffer from:
Pain and inflammation
Anxiety and stress
It can also be used to treat laminitis in horses as well as improve their overall immune system.
It can be used to alleviate symptoms associated with gastrointestinal issues. For example; ulcers, GIT inflammation, and colic.
It can reduce any soreness, pain, and inflammation caused by tying up (contracted muscle soreness)
The Two Types of CBD Oil for Horses: Hemp vs Marijuana Derived 
Now cannabidiol can be derived from both hemp and marijuana plants. Hemp is really just a commercialized version of the cannabis plant. When we talk about hemp plants, we refer to the cannabis plants that are able to grow anywhere between 3 to 4 meters in height. In addition to this, the different parts of the plant—seeds, stalks, and cannabinoids—can be used for different things.
Marijuana is also a cannabis plant, however, it is harvest mainly for use in humans. As we all know, people tend to use marijuana for its euphoric properties. In other words, people use it to relax by reaching a high.
When we refer to CBD, it's important to remember that there is not much of a difference if CBD comes from the marijuana plant or the hemp plant. In fact, the difference is fairly minute. CBD derived from the hemp plant tends to contain a higher concentration of CBD. In addition to this, the THC concentration is often quite low.
On the other hand, CBD derived from the marijuana plant will contain lower levels of CBD and higher levels of THC. This is why marijuana tends to be used recreationally for the sole purpose of getting high.
When looking for CBD pellets for your horse, we always recommend choosing CBD oil or pellets that are derived from the hemp plant.
CBD Oil for Pain and Inflammation in Horses
Did you know CBD for horses is perfect for racing horses! Horses at work, be they racing horses or show horses, often succumb to sore joints. Often we see chronic pain and inflammation within these joints, and this can result in a very unhappy horse.
In order to improve your horses' performance, we highly recommend owners giving CBD oil a try. 
CBD Oil for Anxiety and Stress in Horses
Any horse owner will know that most horses tend to develop anxiety and stress at the worst of times. By nature, horses are creatures that choose flight over fight.
That being said, horses are incredibly prone to developing anxiety attacks and sustained nervousness. When this occurs, they are at a higher risk of developing secondary—and more devastating conditions such as colic.
Consistent use of CBD pellets for horses can help calm a nervous horse. It is ideal for horses who are about to visit their veterinarian or horses that are able to travel a great distance.
CBD Oil for Horses with a Poor Appetite
If you are someone who smokes or uses recreational marijuana, then you have probably already experienced the munchies. Well, munchies—which really is just a sudden increase in hunger—is caused by the psychoactive compound known as THC.
Studies show that only THC can cause an increased appetite. And as hemp products for horses don't contain THC, you won't have to worry about your horse getting high or getting the munchies.
That being said, CBD does reduce inflammation or any gastrointestinal discomfort. This means that if you were to give your horse CBD for an upset stomach, then their appetite would increase as a result.
Side-Effects of CBD Oil for Horses
Although most medications tend to have side effects, CBD can be considered one of the safest promising over-the-counter supplements. Cannabidiol has a very broad safety margin, by this, we mean that even at accidental high-doses, CBD does not seem to cause adverse effects in horses.
Nevertheless, as every animal is different, side effects can occur upon consumption of cannabidiol. Some commonly observed side-effects include:
Lethargy and dizziness in horses
Some horses may develop mild diarrhea
Join the 420 Family!
Get the Latest Content, Guides & Deals.
In Your Mailbox Weekly.
Latest Blogs from CBD: