Daily High Club Connoisseur – Instagrams Most Loved Smoking Box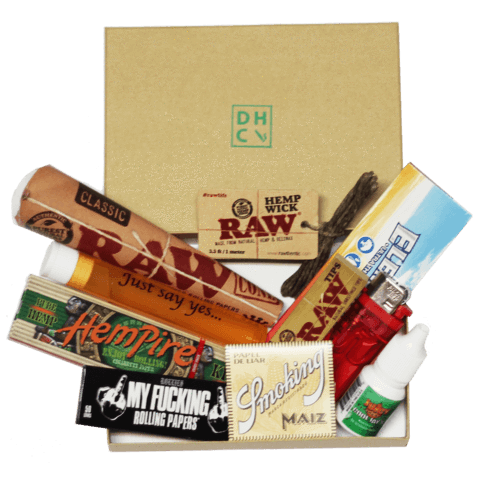 Daily High Club Connoisseur
,
A great value boxed with a lot of papers and essentials. It is a starter box so do not expect any glass or anything fancy, but these are always packed with more than enough to get those that love rolling through the month.
Pros
Great value for money
More items than most boxes
Curated by stoners for stoners
Cool small items and great rolling papers
Cons
Starter box so no glass or anything too special
Mainly papers and essentials
May not be enough for heavy smokers
---
A 420 Subscription Box With Epic Supplies
The Connoisseur box from Daily High Club is one of the coolest stoner boxes that you can get lately. Each month this box comes with brand new smoking supplies, exclusive glass and much more. Are you ready to try the Connoisseur box for just $12 and free shipping?
This subscription box for stoners comes monthly with 7-9 unique products that are curated by smoking experts for real potheads.
The Daily High Club offers one-time extras to your monthly subscription box. If you pay a little extra you can get cool smoking gear of your choice which gets delivered to you for free. Daily High Club surprises us every time with new 420 goods in their connoisseur box that is packet brimfull it is hard to believe that the actual price is just $12 for this awesome weed box.
Touted As The Best Stoner Gift Box
The Daily High Club's Connoisseur box is one of the most known stoner boxes on social media. Especially on Instagram, you will find this stoner box often tagged under pictures and reviews. Everyone just loves the Daily High Club. We found crazy reviews such as:
"Of course I inhale, that's the point! #dhc to the rescue #dollarhighclub i love you #bananapipe do your thing"
With a box from the Daily High Club, you will get one of the most stunning smoking subscriptions that you can find. The Connoisseur box is full of rolling papers, 420 munchies, gear and a lot more for stoners.