Da Buddha – A Desktop Vaporizer For Stoners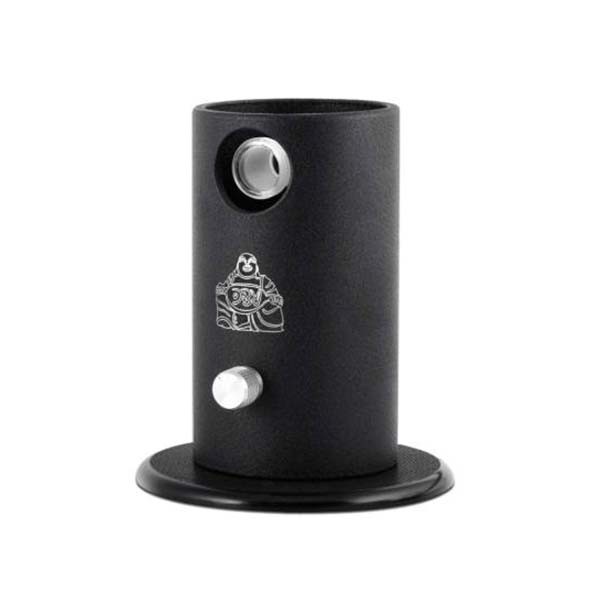 Da Buddha
,
Shopping on a budget doesn't mean you have to sacrifice a good smoking session.Da Buddha is an affordable, desktop vaporizerfrom 7th-floor vapes the same company that produces the Silver Surfer and Sidekick.
Pros
For beginners easy to use
Above average vapor quality
Heats up quickly (High ceramic heating)
Adjustable temperature settings
Cons
No numbers on the heating dial
Glass components can easily break
---
When it comes to home smoking you'll usually want to spend that little bit more to get a good product but, as the Eastern philosophy says, true enlightenment comes from within. We'll be looking inside Da Buddha to see what makes this product tick and, more importantly, whether or notit's worth the investment.
A simple dry herb vaporizer with a lot features!
Da Buddha is a fairly simple piece when it comes to looks. A long, silver cylinder rests on a black base. For a desktop vaporizer, the appearance is surprisingly discrete which means you can leave it out between uses without having to worry about making your living room look like an amateur science lab. The connecting stem is front facing, which can be a little awkward, but with the included cleaning tool and a little practice, it's a minor issue.
The Da Buddha is a budget vaporizer but it's large enough to use as a session piece with friends. The top loading bowl is nice and roomy whilst the chamber is large enough to get a satisfying draw. The heating elements are ceramic which prevent sticking but you'll need to use a finely ground material to get the most out of it. I love ceramic elements because they are much easier to clean and tend to age better than metal based elements.
The product is built in Colorado USA which practically guarantees good wiring and construction. It's a convection heater that takes just 90 seconds to heat up to the maximum temp. You won't have to constantly hold down the power button when you're drawing either which is a practical, user friendly addition. The long, vinyl stem is flexible and, because of its length, delivers a cool, dense fog even after heavy usage.
One of the best build desktop vapes
7th Floor Vapes sell themselves as a provider of high quality products at rock bottom prices. It's difficult to argue with that given the Da Budda costs a quarter of what you'd expect to pay for a desktop vape. It's not cheaply made either. The build quality of each product is backed up by a 3-year warranty whilst the US-based customer service team is readily available and exceptionally helpful.
On a product like this, we wouldn't expect a host of extras but 7th Floor Vapes surprises us. They provide a padded travel bag as well as a glass mouth-piece and wand. The temperature is dial controlled although it doesn't have specific temp listings.
It's not the easiest to clean and, over time, the stem, wand, and mouth-piece will show signs of age. Luckily replacing these parts is very cheap which extends the lifespan of this unit way beyond the 3-year warranty. The internal heating elements are well made and the plastic outer-shell feels robust albeit a little cheap.