Dr Dabber Light – The ultimate dab pen.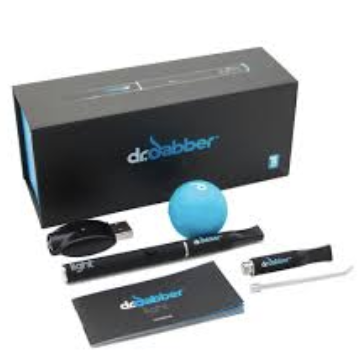 Dr Dabber Light
,
In terms of quality, both build and smoke, the Dr. Dabber Light is leading the way. You get the same coil technology that's in the Ghost for a lot less cash. If you want a discrete, portable smoke you won't find a better one.
Pros
Great value for money
Titanium Technology
Low heat for extra flavor
Ultra-stealthy
Cons
More expensive than other cheap pens
Chamber a little small
May not be big enough hit for heavy smokers
---
Dr. Dabber is the producer of one of the finest atomizers in recent times, the Ghost. It was a chunky unit with an intricate coil system that delivered a high-quality smoke. Now, they're back with smaller, discrete version called the Dr. Dabber Light. We dabbled in Dr. Dabber's dab pen, here are our thoughts.
Solid and high quality build
Design and use these smaller, portable products tend to prioritize cost effectiveness over smoke quality. If you're only paying a few bucks, you can't really expect to be drawing mist like the Himalayas. But this is where the Dabber Light really makes an impact. The coil quality is really good and is almost the same as its older, more expensive brother the ghost. This tiny tube really packs a punch, with the flavor not too harsh or sharp. The only downside is that you can't get a bigger hit because of the chamber size.
So how is it possible that you can get such an impressive draw from such a small product? The secret is in the core. Dr. Dabber uses a specially designed, low heat titanium coil to heat wax. Lower heats are better because you won't risk burning or completely eviscerating your product. The lower heat exchange means less wax gets lost along the way leading to a cleaner chamber, better flavor hit, and mist.
There are times when you can smoke openly. In other situations, you might want to keep it discrete. This pen is one of the stealthiest that we've looked at. It's narrow chamber and short overall length means you can hide this in the palm of your hand. You can fit it easily in your pocket and you're more likely to lose it in a bag than run out of space for it.
The best portable dab pen!
Portable smoking products like this one come with a remit. You're not going to be smoking this at your house. Nor is it going to be your primary gear for dabs. This is the kind of product you take to a party or a day out. If that's the reason you're buying one, the price is going to be a big factor in your decision.
Let's be honest, a quality product like this doesn't come cheap. In fact, this is one of the most expensive portable dab pens money can buy. But, it's not a bad investment. The build quality is one of the best on the market. The batteries and tanks can be replaced whilst it's also easy to clean. For the money, you won't find a better quality of smoke out there either.
So the only thing left to worry about is how long this investment will last. Most similar products you'd expect a lifespan of 6 months to a year. Dr. Dabber smash this conception by offering a stunning one year warranty. It shows they've got the confidence to put their money where their mouth is when it comes to product quality. If you're sure on smoking dabs, this product delivers the best quality on the market right now.
Join the 420 Family!
Get the Latest Content, Guides & Deals.
In Your Mailbox Weekly.