Dyson Pure Cool Link WiFi-Enabled Air Purifier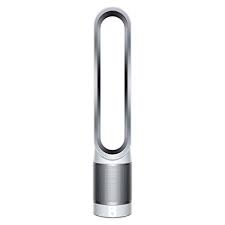 Dyson Pure Cool Link WiFi-Enabled Air Purifier
,
Dyson Pure Cool Link WiFi-Enabled Air Purifier: Patented air-flow technology for an unrivalled clean.
Pros
Premium unit you can trust
Air quality display in real time
Doubles as a air-conditioner and heating unit
Cons
More expensive than others
---
Dyson revolutionised the hoover with its patented air-flow technology. A design relying on individual cylinders to provide consistent levels of power. Having dominated industrial and personal hoovers, Dyson has turned its attention to air purifiers with the Cool Link, Wi-fi enabled Air purifier. It is certainly not cheap, but for unrivalled cleaning power the Dyson is top of our list. 
Brand
An established brand like Dyson comes with a hefty price tag. But this is a company famous for its innovative research and superb products. The Cool Link air purifier is the flagship of their home-ware products, so we're expecting some ice cool technology with this one. This is a premium product, but all the initial signs, from the specs to the performance, indicate it can be worth the money. 
Performance
Performance-wise, the Dyson Cool Link is leading the charge. Entering the 'internet of things' market with a Wi-fi enabled purifier, this unit can be controlled and measured from your smartphone. A host of interesting information about your air quality, power usage and costs are available through the app. 
What's more impressive is that this unit is measuring and displaying your air quality in real-time. You can then decide to program it to adjust at different hours of the day, most notably with its night-mode which is whisper quiet. Capable of cleaning a large space, this unit doubles up as an air-conditioner for both cool and hot air. 
Value
All that technology comes at a price. The Dyson Cool Link is the most expensive air purifier on our site. It's also the strongest performer. The fact that it doubles up as an air-conditioner and heating unit, makes it more than worth the money. In fact, if you can afford it, you won't find a better air purifier out there.