G-Spot Magnetic Herb Grinder – It's the little things that count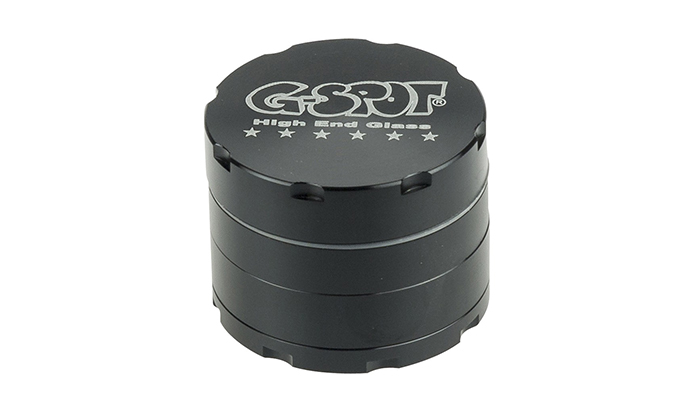 G-Spot Magnetic Herb Grinder
,
G-spot have an impressive track record when it comes to herb. If you thought there's not much you can do with a grinder, you'd be wrong. G-spots magnetic 4-part herb grinder shows superb attention to detail from a bonafide manufacturer. It's got more than a few tricks up its sleeve to make grinding to the finest powder accessible to everyone.
Pros
4-part grinder with a mesh tray to capture pollen
Nylon ring band for less friction
Magnetised lid for carrying pre-ground herbs
Plastic scraper included
Diamond teeth
---
Masters in making cannabis grinder
G-spot are master herb makers and have been for a long time. Glass bongs, vaporizers and carry-cases, you name it and they've made it. So the magnetic 4-part grinder comes with all the frills you'd expect from a household name. In particular, we loved the attention to detail that really takes this simple tool to a next level product.
Easy to use
Packed with useful features, you can tell the team at G-spot have put a lot of thought into this. There's a nylon ring to reduce friction between grinds. It also prevents the discs getting stuck together over time which is a main fault with cheaper grinders.
Add to it, diamond shaped teeth that are sharp enough to grind the toughest herb into fine powder, a mesh case for catching pollen and a magnetized lid and you've got a serious product on your hands. I particularly liked the plastic scraper that lets you push pollen caught in the mesh to the reservoir below.
High quality build weed grinder
These guys manufacture hundreds of thousands of products each year and they've got their process down to a T. CNC-machined aluminum is a stick-proof, high-quality material that will last along time whilst the ring, is made from one of the most resilient materials on the planet, nylon. Faultless.
Let's talk money
This is where it gets a bit sticky. The price is fairly high for a herb grinder, especially a smaller, portable one like this. Without a doubt you're paying a little extra for the name on the lid, but you still get a quality product with a host of innovative design features and long shelf-life. It's definitely worth it in our opinion.
Join the 420 Family!
Get the Latest Content, Guides & Deals.
In Your Mailbox Weekly.