GermGuardian AC4825 3-in-1 Air Purifier with True HEPA Filter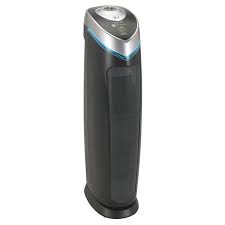 GermGuardian AC4825
,
GermGuardian AC4825 3-in-1 Air Purifier with True HEPA Filter: An state of the art air purifier for perfect air quality 
Pros
UV and odor Sanitizer
Carbon filter designed to deal with smoke and fog
3 year warranty
Established brand with cheap replacement filters
Low noise volume 
Cons
Not the cheapest on the market
At 22 inches it's quite a large air purifier requiring floor space
Not suited to larger spaces 
Free standing unit that will take up a fair amount of room 
---
The freestanding 3-1 air purifier that's designed to convert thick smoke into clean breathable air. The germ guardian is a best-seller for a reason, combining a carbon filter with UV and odor reduction technologies. Better still, they throw in a 3 year warranty as standard. What's not to like? 
What's it all about?
Germguardian is a well-established home care brand with years of experience behind it. They incorporate a lot of fancy technology into their air filtration units which will pay dividends in the long run. On top of that, they're US based which means servicing, repairs or replacement parts are easy to find. 
Features
The Germguardian uses a trifecta of cleaning power. Carbon filters to help remove smoke efficiently. UV light for microscopic bacterias as well as an in-built sanitizer which removes unwanted odors. It's also specialized to deal with 99.97% of airborne allergens. 
Value and price
So all those features do come at cost. These units are around $100. The flipside is that a three year warranty means you'll probably save money in the long run. The only issue for me is that it's a medium strength air purifier and may struggle with particularly cloudy rooms. Its also a fairly hefty piece of equipment and is designed to be free standing rather than tucked away on a shelf. Overall, we'd recommend this as a great, long-term investment although it may not be necessary for smaller, less polluted rooms.