GG Sidecar Vapor Bubbler – From Amsterdam with Love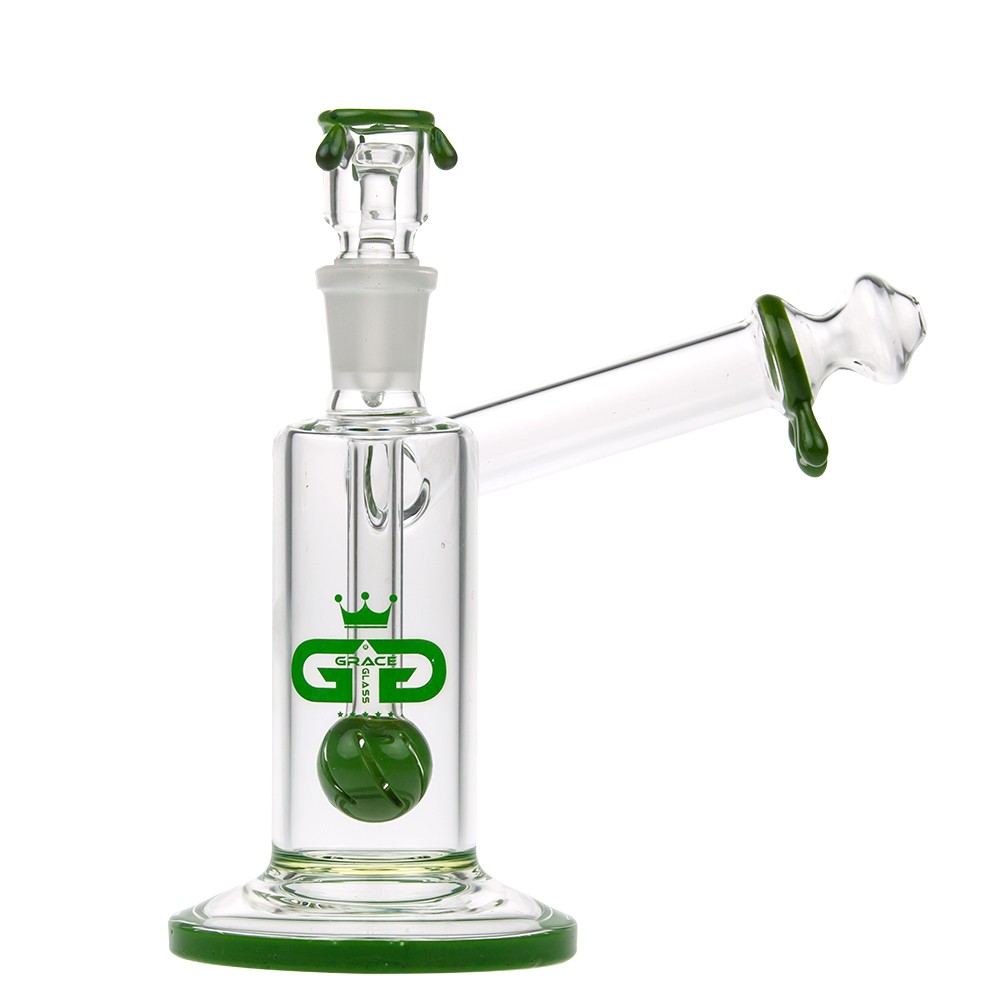 GG Sidecar Vapor Bubbler
,
When it comes to making smoking gear who better to do it than the folks from Amsterdam. These guys have been smoking for generations which is why products from Amsterdam's very own Grace Glass Company always catch my attention. This Sidecar glass bubbler is designed to take both concentrates and herbs, coming in two separate bowls for each.
Pros
Freebies
Versatility: suited to both oils and herbs
Sphereical percolator
Mid-range price
Cons
Cleaner smoke available on other rigs
Not specialist
---
There's time and a place for each type of smoke and having an all-in-one is a cost effective way to experiment with both. Grace Glass is known for producing budget bongs with quality build. Today, we'll be putting the Sidecar through its paces as we continue our search for top quality manufacture and design in the bubble bong market.
A dab rig for weed festivals
So, the Grace Glass side-car isn't the prettiest bubbler on the market. It's pretty functional looking with a wide main chamber and modest mouth-piece sprouting at a right angle from the main unit. It's surprisingly compact which means you can take it with you to festivals whilst the extra-wide, circular base helps to keep things steady on even the most unforgiving surfaces. There's the familiar Grace Glass (GG) decal on the front alongside a few highlights, available in orange or green colors.
Looks aren't everything though, and this bubbler has a trick up its sleeve. For example, you get a concentrate bowl with glass nail and an herb bowl for traditional smoking. Both have a generous depth that allows you to take big hits into the main chamber. This kind of versatility really appeals to those who like to choose their smoke depending on the situation. It's also hard to find an all in one for less than $100 so GG has done well to incorporate everything you need on a meager budget.
They've even found it in their hearts to throw in a few extras for the broke smoker. That comes in the form of an herb grinder, papers and a silicone jar to store your product. These are nice extras and mean that everything is ready to go straight out of the box. All you need to do is fill it with water and add a little herb or concentrate.
Take the smoothest hits from a rig!
The other stand-out feature of this product is the filtration. Nothing beats a spherical percolator for a smooth hit. The ball sends tiny bubbles of vapor into the water from all directions which soften the taste of concentrates in particular. With herb in the bowl, you get a much better filtration system than you would find on a run-of-the-mill bong. It's a win-win situation giving smokers the best of both worlds.
Perhaps the only thing that bothers me about this product is the fixed stem. It makes it more difficult to clean and, at the same time, less easy to transport. The upside is that the parts are stronger for a longer lasting build. GG also provide a neat box that provides enough protection to sling in your rucksack without worrying about the consequences.