hOmeLabs 3 in 1 Ionic Air Purifier with HEPA Filter - Portable Quiet Mini Air Purifier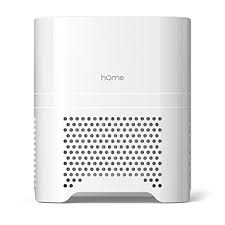 hOmeLabs 3 in 1 Ionic Air Purifier with HEPA Filter
,
hOmeLabs 3 in 1 Ionic Air Purifier with HEPA Filter - Portable Quiet Mini Air Purifier: Transportable Air Purifier with industry leading 4 stage filtration 
Pros
Super portable
Suited to cars or vehicles
Reasonably priced
4 stage filtration unit
2 year warranty 
Cons
May be too small for living spaces
Lacks power 
---
If you're looking for an air purifier that you can transport all over, hOmelabs have got you covered. This 3 in 1 purifier comes equipped with a hepa grade, carbon filter, which is ideal for cleansing a smoky car or small room. Fully portable this offering can be neatly tucked away on a shelf for discreet cleaning power. The only issue we could find was a lack of power in the unit itself, but for less than $50 its a bargain.
Brand 
Homelabs is a relative newcomer who are bringing ingenuity into the air purifier market. The surprisingly small 4 stage air purifier is ideal for putting in the closet, car or airing cupboard for fast action cleansing. Not only that, it's relatively cheap and can be picked up for way under $50. A bargain in our books. 
Performance
So, we weren't expecting any fireworks given this unit is just 7.5" tall. What we did get was some impressive technology and attention to detail. Using a 4 stage filtration system, this air purifier has a pre-filter, a HEPA graded carbon filter, sanitizer and more. The only problem was the lack of power, which is to be expected in a unit of this size. 
Value
For the price, you really can't argue with the lack of power. This air purifier does everything it needs to for a small portable unit. Tuck it away in a closet, car or cupboard and let it do its thing. We do feel if you're looking for cleaner air in your living spaces you'll have to invest a little more to get the results you want. You could always just buy two though!