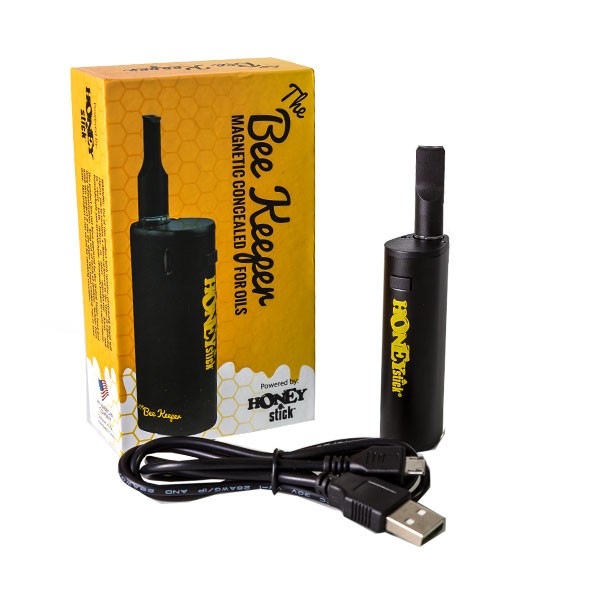 Honeystick Beekeeper
,
The Honeystick Beekeeper certainly looks cool.It feels great as well with the cool aluminum shell. When you shake it around there is, unfortunately, a rattle whilst the lack of a warranty does concern me. However, once you fire this up you'll have absolutely no regrets about making the purchase.
Pros
Works with Industry Standard Pre-Filled Oil Tanks
Stealthy
Easy to use
Cons
A little tricky to refill the tank
Tank clogs up and needs replacing often
---
There are no two ways around it. The Honeystick Beekeeper sounds delicious. It's also a two piece product in that the tank and the atomizer are housed separately. I'm intrigued by this set-up because it tends to provide a much better hit. At the same time a set-up like this sacrifices portability and can be a bit tricky to maintain on the move. I'm loading up some oils to see how this unit handles its price tag.
Features and design
So the first thing to do is describe how this thing works. The atomizer comes in a separate piece. Here you get a battery alongside the bowl and coil. The chamber is 510 thread which means you can slide a new oil tank in with ease. On the other piece, you can remove the mouthpiece to drip feed oil into the atomizer. Fire up the 20W mod and away you go.
This is a fairly chunky piece of gear as far as dab pens go, so I hope it makes up for the lack of pocket-space in big hits. It does, and then some. You can fill a room with the smoke from the Beekeeper. The smoke itself is rich and flavorsome thanks to the larger housing for the atomizer. These two part vaporizers nearly always provide a heartier smoke. If smoke quality is your priority, a two-piece is a must.
Dab pens often get manufactured at cut-price with a safety usually the first casualty. It's good to see the safety features on a more expensive unit like this. Powering up is achieved by 5 clicks of a button. This also locks the device when you're not using it. The product itself is housed in a sturdy looking shell, plus the 20W battery is fully safety certified. Overall, there's not much to worry about with this pen.
Much has been made of Honeystick's magnetic adapter system for holding the battery in place. As far as I'm concerned, it's a nice addition that works well. The downside of it is that it tends to rattle a little bit. Loose parts always concern me as they directly correlate to the quality of the product and the Beekeeper does feel a little loose.
A good performing dab pen
What makes this product unique is its position in the market. Price-wise, it's a bit steeper than the standard, 6 months and chuck pens, but less than upmarket dab sticks. I can see a lot of buyer's getting excited by this and, on balance, I think it performs as well as its more expensive counterparts in terms of vape.
The issues tend to come from the design and manufacture. To unpack that a bit, this pen comes in a lot of separate pieces. There's lots of screwing in to be done and the shape, when it's fully connected, is a little awkward for a pocket. That means you have to unscrew everything when you're ready to go. There's also a few rattling parts and no warranty which adds a bit of risk to the purchase overall.
Join the 420 Family!
Get the Latest Content, Guides & Deals.
In Your Mailbox Weekly.