KandyPens K-Stick – A beautiful wax pen for anytime!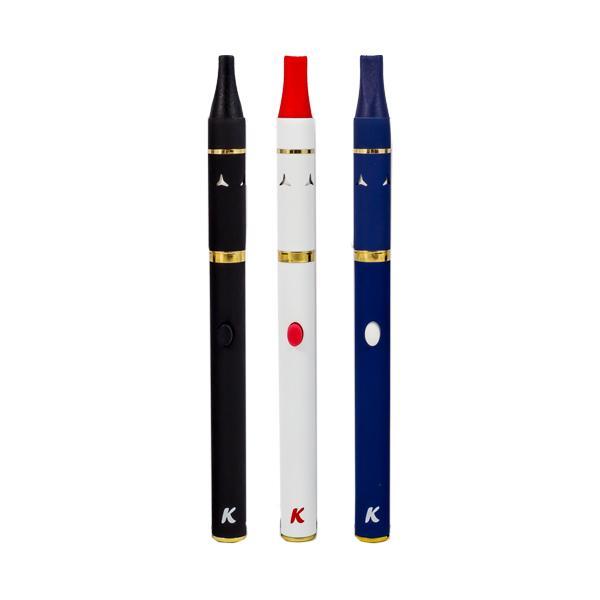 KandyPens K-Stick
,
I like this pen. Granted at this price range it's hard to get it wrong. There could be a few improvements like a Quartz coil or a temperature controller but when the cost is so low you can't really complain.
Pros
Ceramic funnel style atomizer
Extremely stealthy
Portable
Affordable
Cons
Chamber can be a little small
Requires new coils every month or so
Hits may be a little small for dabbers
---
A K-stick is as much a fashion statement as it is smoker's delight. The elegant e-cigarette is available in a demure black, royal blue or retro white with red highlights- we went with the retro white, naturally. It's a wax pen and there's no other option for those who prefer to vaporize buds. KandyPen products always make a great first impression, we put it through its paces to find out a little more.
All highlights combined with a fresh look
I already touched on this, but it's worth mentioning again: KandyPen (KP) products are cool. The K-stick is no different. The highlights combined with the decals look fresh whilst it's thin enough to feel like a 50's movie star during smoking. The range of colors add an extra layer in the fashion stakes, and we'd feel totally comfortable pulling one out at parties.
It's not all about looks, though. We took one of these apart because what's on the inside counts, too. The coil is made from titanium which will last awhile, albeit not as long as a ceramic piece. Titanium tends to heat up quickly with less energy which means the battery life will perform well. Quartz is the still the finest material for a coil and it's a shame that KP hasn't kept up with the times. It sure is nice to get a cotton wick, though.
When it comes to portable smoking gear, ease of use is obviously important. To access the bowl you simply screw off the mouthpiece. This is where the charger fits in as well. Turning it on takes five simple clicks of a button. Drawing a longer smoke is done by holding down that same button for longer. Using the K-stick is as simple as it gets. You'll have no problem refilling, smoking or charging- even after the longest of sessions.
Quality & Power
Vaporizer coils burn at around 100- 300 degrees Celsius (That's 300-600 degrees for the Fahrenheit fans). Needless to say, safety is something to look out for on these products. KP do their duty by installing an automatic shut-off after 10 seconds. It's a handy feature because the button is sensitive and could easily get held down in a pocket or back-pack. The build quality seems decent as well so we have no worries on the safety front.
Compatibility is always on my mind when I'm buying smoke gear. I don't want to be in a situation where I have to keep paying the same company for batteries, chargers, oil tanks or whatever. Compatibility is where the K-stick stands out.
It's 510 threaded, which means that you can fit any brand oil tank into it. A lot of brands at the moment are producing "own brand" oil tanks which locks you in to their products. Being able to shop around a bit helps you to save a few bucks. It's nice to see KP bucking the trend by putting customers first.The last thing, which is on every smoker's mind, is the price. This product is super cheap and looks good to last a year or so.
Join the 420 Family!
Get the Latest Content, Guides & Deals.
In Your Mailbox Weekly.