Kannastör Aluminium Grinder – A heavy Duty Product that will Blow You Away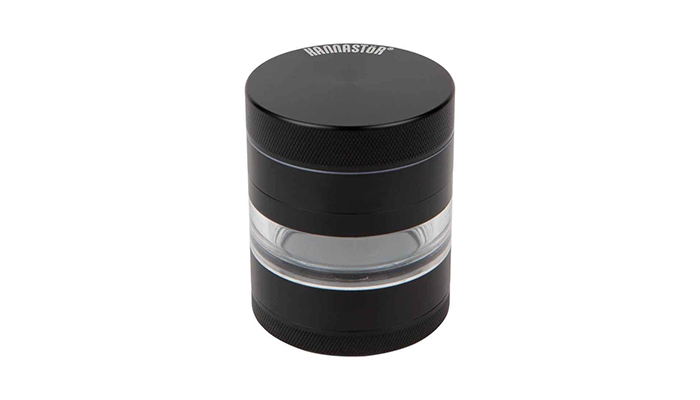 Kannastör Aluminium Grinder
,
Trust the guys in Amsterdam to come up with a product that blows away the competition. The industrial strength Kannastör 2.5 inch Aluminium 4-part Grinder comes complete with a clear lid so you can check on the progress without having to pull it apart. Inside, cubic teeth grind anything to dust with a bottomless pit of a pollen catcher underneath.
Pros
The ultimate grinding experience
Heavy duty magnetized lid that won't fall apart
Unique drop through holes
Deep well
Cons
Twice the cost of most products out there
---
Dutch darlings Kannastör herb grinder
If you've got the next few years in mind, then you really need look no further than the industrial strength 4 part grinder from Dutch darlings Kannastör. This is a weighty beast using cubic teeth to obliterate plants into dust.
Magnetized features
We'll start with the see-through lid which lets you check on the progress of your herb in real-time. There's also a glass band in the chamber so you can watch the dust settle. Beneath that a super-deep well for catching the pollen that gets filtered through its mesh net.
A lot of products feature a magnetized lid, but that doesn't mean they won't fall apart in your pocket. This one is strong enough to survive bouncing down a flight of stairs, so you can pre-grind your product without worrying about losing any.
One of the best build quality grinders we have reviewed
Again, we were blown away by the quality of this product. A superb base material in brushed aluminum with resilient nylon friction rings and sturdy glass chamber. Even the mesh feels strong to the touch. We felt that this thing could survive a nuclear holocaust, so it's more than capable of being a mainstay in your collection for the next decade.
A good investment
Simply put, this is one of the best products on the market, so of course it's great value for money. The glass lid adds a few bucks no doubt, but its the overall build quality combined with a host of interesting features that make this grinder stand head and shoulders above the rest. A super investment for years to come.
Join the 420 Family!
Get the Latest Content, Guides & Deals.
In Your Mailbox Weekly.