Launch Box – The Smallest Most Powerful Vape Box In The World!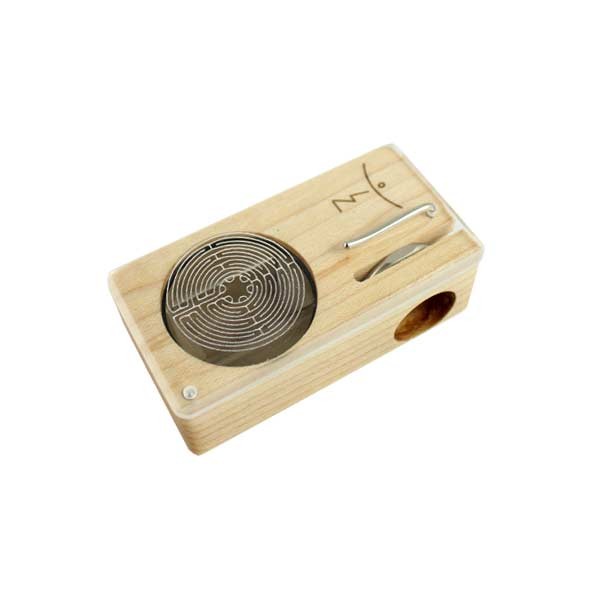 Launch Box
,
A good smoking product doesn't have to be filled with flashing lights, Bluetooth connectivity or LCD displays. A fact that is proved by the ingeniously simple design of Magic Flight's Launch Box.
Pros
An eco-friendly vape box
Stupidly simple to use
Heats up super fast
Pocket Size
Cons
Doesn't make huge clouds of vapor
---
Its appearance inspires more than a few question marks and, to the untrained eye, looks like an innocent hunk of wood (available in Maple, Cherry, and Walnut). To the initiated,it's a useful, low-cost vaporizer that's super easy to use regardless of your location.
Quality that can last forever
This is a fully analog vaporizer. There are no tricky apps to download or navigate and you won't need an instruction manual the size of the dictionary to get started. It's constructed from a flat wooden panel with a bowl scooped out of the upper surface. There's a removable borosilicate glass chamber similar to a bong, a glass outer shell, and AA rechargeable powered battery unit.
Pushing the battery into the side of the wood panel is how you make the magic happen. A thin metal rod connects to the bowl and, with a little juice from the AA, your ground up herb is vaporized into a dense, powerful fog.
Drawing that fog is done through the long-barrel chamber which lets you choose short, sharp hits or, for those with patience, drawing a full smoke. The flavor is very harsh which I guess comes from the wooden chamber and small size, but its a good hit provided you grind your bud fine enough.
When it comes to a portable vaporizing unit the main factor that should influence your choice is reliability. There's nothing worse than turning up to an outdoor session with a dead battery or broken equipment. The Launch Box is leading the way in the reliability as there is so little that can go wrong on a product this simple.
A portable and powerful vape box
The battery connects directly to the heating elements which reduces the risk of broken, internal wires when you're on the move. The use of AA rechargeables means you can carry a few extra in your pocket and, even if you do drop it there are few things that will do serious damage to a piece of wood. The sturdiness of this unit is backed up by Magic Flight's lifetime warranty on every purchase.
The brand is US-based with an excellent customer service team which means you'll have no problem getting a replacement or repair should something go wrong. This unit might look a little rough around the edges but it's actually incredibly sophisticated to come up with a product as simple as this. The drawbacks of this product are the lack of options for smoking. There are no specific temperature settings with heat decided by how long you connect the battery.
The Launch Box is the perfect companion for festivals or outdoor activities without a life-changing price tag. At first, you might burn a few buds but once you've mastered it you'll be able to draw quality smoke anywhere, regardless of the weather. It's also exceptionally light-weight and small enough to fit in the palm of your hand.