Top 8 Best Wax Pens Under $50 of 2019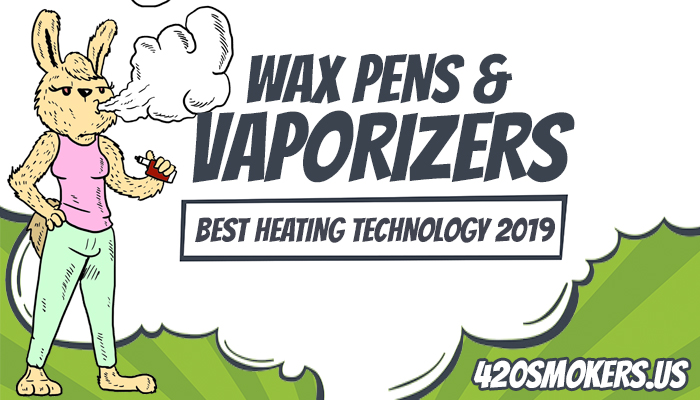 Which Wax Weed Pen?
The technology around marijuana wax vaporizer have come a long way in the last few years. Especially recently. Only a few years ago desktop vapes dominated the scene. The only pens available where home-brewed e-cig hacks that either burnt the wax to a crisp or burnt themselves out within the first few sessions.
We take a look at the top 8 best weed wax vaporizers for under $50. Now anyone can afford to keep a wax vaporizer on hand.
Also, we recently published a guide on the best dry herb vaporizers for 2019 for people that wanna vape the raw plant.
With the Introduction of companies like Grenco Science, Dr Dabber and Kandy Pens a world of competition has pushed the wax pen market into a whole new era of smoking dabs!
The Eight Best Wax Pens of 2019
Wax vaporizer pens have a number of advantages over conventional smoking methods. The lower temperature of vaporization has been proven in studies to have benefits over smoking, where the THC is combusted into smoke and hurts the lungs.
Additionally, the wax method allows a higher percentage of THC into the vapor compared to other techniques. In other words, you are getting more THC with less adverse health effects.
The following are 8 of the best wax vaporizer pens on the market. They are popular for a reason and allow users the ability to smoke on the go, in style.
1. Pax 3 - The Ultimate Wax Vaporizer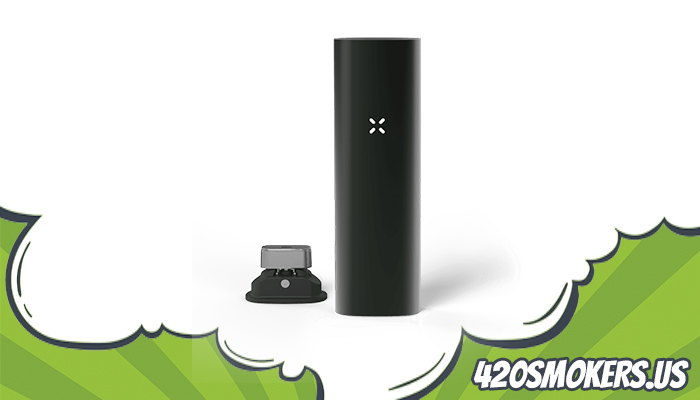 The Pax 3 vaporizer does retail at $274.99, which is incredibly expensive for a vaporizer pen. But if you want the best product that will last for years, then look no further. For daily smokers, it will preserve their health over the long-term. The Pax 3 is ultra stylish and incredibly slim, featuring advanced heat technology and a neat smartphone application.
This item is superbly built and incredibly stylish, though at the same time it does not really stand out with eye-catching colors and designs. The Pax 3 reaches its top temperature in 22 seconds, which is quite an achievement for such a small product, and the smoke is actually smoother than one might expect.
Pros: The best rated dab pen in our comparison test. A long life product build by vape experts for the use of cannabis extract, wax, cbd extract and dry herb.
Cons: When you're low on budget take a look at cheaper vape pens we listed some this guide.
Why we like this one: One of the best dab vape pen for wax and dry bud that we have tested so far. The Pax 3 comes with a great design, a lot of features and the smoke is smoother than you'd expect.
Read the full review: Pax 3
2. Dr. Dabber Light – The Perfect Light THC Wax Pen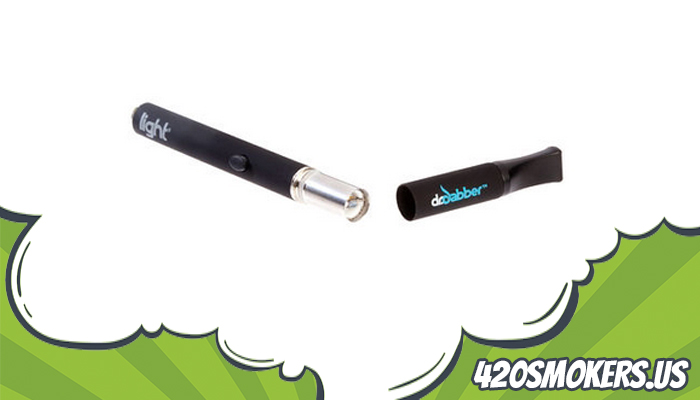 The Dr. Dabber Light is a nice tradeoff between style, price, and smoke. It is a very popular pen and retails at $49.95. It is ultra stealthy, boasts a low heat setting, and features Titanium technology.
This unit is also very sturdy with an impressive design. Despite its modest price, the Dr. Dabber Light actually delivers a very refined smoke. The only disadvantage of this device is that the chamber is a little small, which could disappoint heavy smokers. It won't deliver massive hits, but this is the perfect pen for light smokers to take with them on the go with its low heat, amazing stealth, and smooth delivery.
Pros: This device comes with titanium technology. A low heat titanium coil to heat up your wax for a better flavor.
Cons: A quality product like this doesn't come cheap.
Why we like this one: This portable dab pen is a unique smoking device that aims to get most flavor out of your liquid or wax. The Dr. Dabber Light delivers the best quality on the market right now.
Read the full review: Dr. Dabber
3. Pulsar Ninja V4 – Huge Hits at an Affordable Price
Retailing much less expensively but delivering many of the same benefits as the Pax 3 is the Pulsar Ninja V4. This little pen is capable of delivering powerful hits with its large bowl. It is rubberized with a ceramic coil and has no exposed coils or wicks.
While it might seem a little clunky at the outset and lack some of the quality features of high-end pens, it delivers where it matters most with strong hits and a ceramic plate which is natural and durable. The only downside is that it takes a while to heat up, though it stays hot for a long time. Additionally, this pen can be filled with both wax and liquid for added versatility. A strong pen at an affordable price of $39.99.
Pros: The Ninja V4 is a long-term investment for dab enthusiasts. There's no exposed coils or wick. The bigger chamber makes sure to provide a satisfying hit.
Cons: Wax and oil can leak out if you hold it sideways while in use.
Why we like this one: Pulsar's new concept for their latest product the Ninja V4 dab pen is stunning. Huge amounts of cloud can be inhaled, thanks to the residual heat. You can really load up the wax with this device.
Read the full review: Ninja V4
4. G Slim Concentrates – Stealthy and Stylish Slim Weed Pen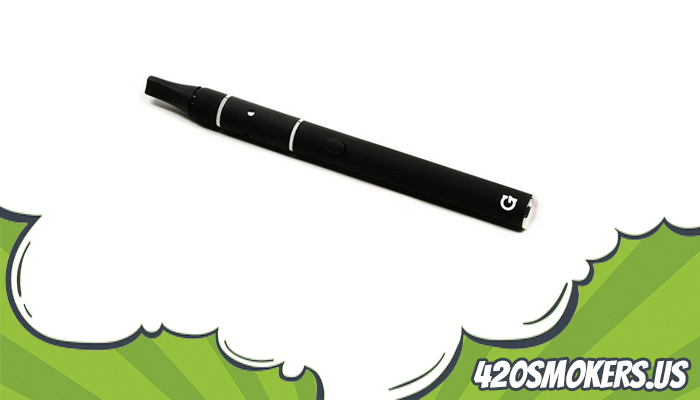 The G Slim Concentrates is an ultra slim pen designed for stealth and portability. It is nearly always a tradeoff between size and stealth, and this pen is certainly more orientated towards portability and stealth.
But at $19.95, it could be a good idea for all smokers to have a light and portable device such as the G Slim Concentrates alongside a heavy-duty desktop vaporizer at home. This pen is stylish, slim, portable, and cheap. The obvious downsides are that it can get sticky if overpacked and delivers small hits.  Additionally, cleaning is very difficult with no removable parts.
Pros: Comes with great packaging and from one the most famous vaping brands in the world.
Cons: Can get a little sticky if overpacked.
Why we like this one: The famous durable and reliable thc wax pen from Grenco Science is extremely stealthy and affordable. The G-slim has been designed for vaping on the go. If James Bond had been around in the time of vaporizers, he would have probably used a G-slim.
Read the full review: G-slim
5. Honeystick Beekeeper – A Delicious Dab Pen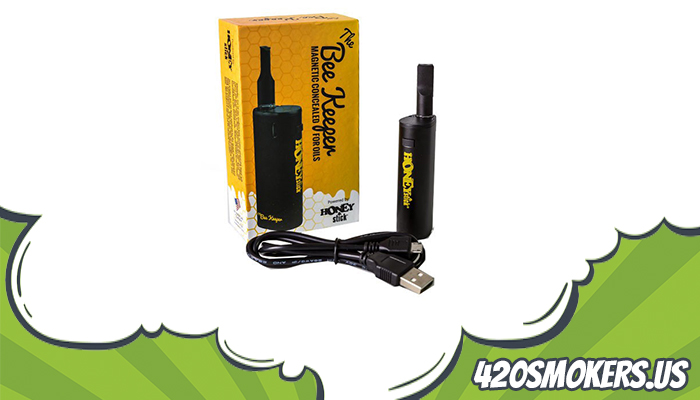 The Honeystick Beekeeper is definitely one of the cooler looking devices on the market, though it might not be the most innocuous looking of pens (it tends to stick out). It is a two-piece product with the atomizer and the tank separately housed, which provides a stonger hit.
However, as awesome as the Honeystick Beekeeper is, it is far less portable than other wax pens, as it is a little bit on the clunky side. It takes a while to set up, though it does perform very well in terms of the actual smoke itself, the main reason people buy vape pens that can sometimes be sidelined for novelty effects and extra features. The item retails at $29.99 and features a magnetic adapter system that works very well.
Pros: The tank and the atomizer are housed separately. That tends to provide a much better hit.
Cons: A little tricky to refill the tank.
Why we like this one: The Honeystick Beekeeper is one of the best cheap dab pens on the market for 2019. This affordable weed dab pen works with industry standard pre-filled oil tanks, is easy to use and stealthy.
Read the full review: Honeystick
6. KandyPens K-Stick – The Coolest Looking Dab Pen for Weed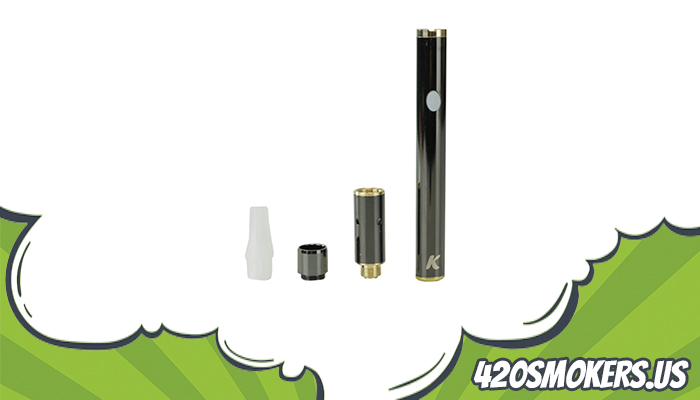 This is an excellent low-cost wax pen that is portable and easy to use. It features a ceramic funnel style atomizer and has all the elegant style of an e-cigarette. It is available in a variety of different colors and KandyPen products are known for their style.
For smokers looking for a portable pen that is extra stylish, the K-Stick is perfect. The chamber is small and the hits won't be huge, but this is the typical tradeoff for portable and stylish vaping pens. Moreover, the K-Stick excels in a number of areas. The vaporizer coil heats to 600 degrees Fahrenheit and it has a safety shutoff after ten seconds. A perfect buy at $34.95.
Pros: A extremely stealthy portable dab pen to an affordable price. The K-Stick from KandyPens is a beautiful wax pen for anytime.
Cons: The chamber is a little small and you can't take large hits from it.
Why we like this one: This cheap elegant wax pen offers a good start into your vaping career. You can get it for cheap and you can fit any brand oil tank into it. The build quality is decent for the price as well.
Read the full review: K-Stick
7. Dube Disposable – Ready to Use THC Smoke Pen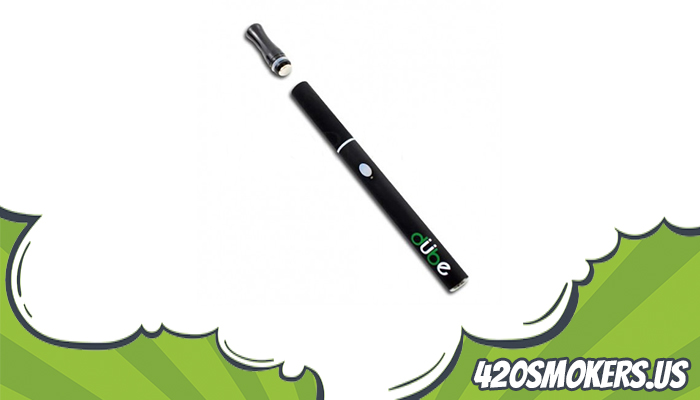 Just because an item is disposable does not always mean low-quality. The Dube Disposable takes 5 seconds to heat up and delivers a sharp and strong hit of smooth vapor.
It comes ready to use out of the box and is very simple - press button for 5 seconds, inhale, blow. It also comes with a packing tool that is a nice addition. As disposables go, it is ideal. The only obvious downside is that purchasing a reusable pen is not much more expensive. The Dube disposable retails at $14.99 and lasts until the battery dies.
Pros: A weed wax pen that heats up super quickly and is extremely stealthy.
Cons: Only lasts until the battery dies and feels a little cheap.
Why we like this one: If you're heading out to a festival with a little wax in your pocket and a bag too full for a dab kit, this is the device you should take a look at.
Read the full review: Dube Disposable
8. Atmos Q3 Kit – Ideal for Home Stoning Sessions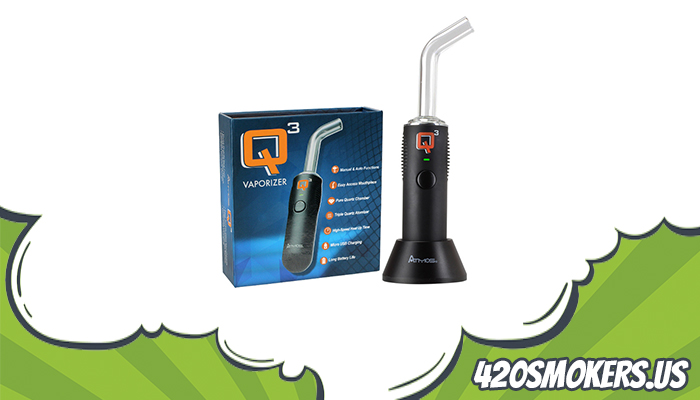 Atmos is one of the top name brands in the vaping industry. The Atmos Q3 Kit is one of the better vaping pens in the market. It is easy to use, stylish, high-quality, durable, and fast heating. It also comes with a glass mouthpiece for superior vapor quality. Unfortunately, it does come with a major drawback. It is quite large and is not as portable as other pens, which may defeat getting a vaping pen in the first place.
However, it is a good bridge between a portable vaping pen and desktop vaporizer, suitable for both. It comes with a triple rod quartz atomizer and a 1100AmAH Lithium battery. A long-lasting product that will consistently deliver fantastic hits, it retails at $74.95.
Pros: A fast heating system. Can produce a large cloud and is best for those who like to vape at home.
Cons: It is not really portable because of the size.
Why we like this one: The vapor quality is unique. It produces large clouds of smoke and the system always deliver a strong and dense vapor.
Read the full review: Atmos Q3
Join the 420 Family!
Get the Latest Content, Guides & Deals.
In Your Mailbox Weekly.
1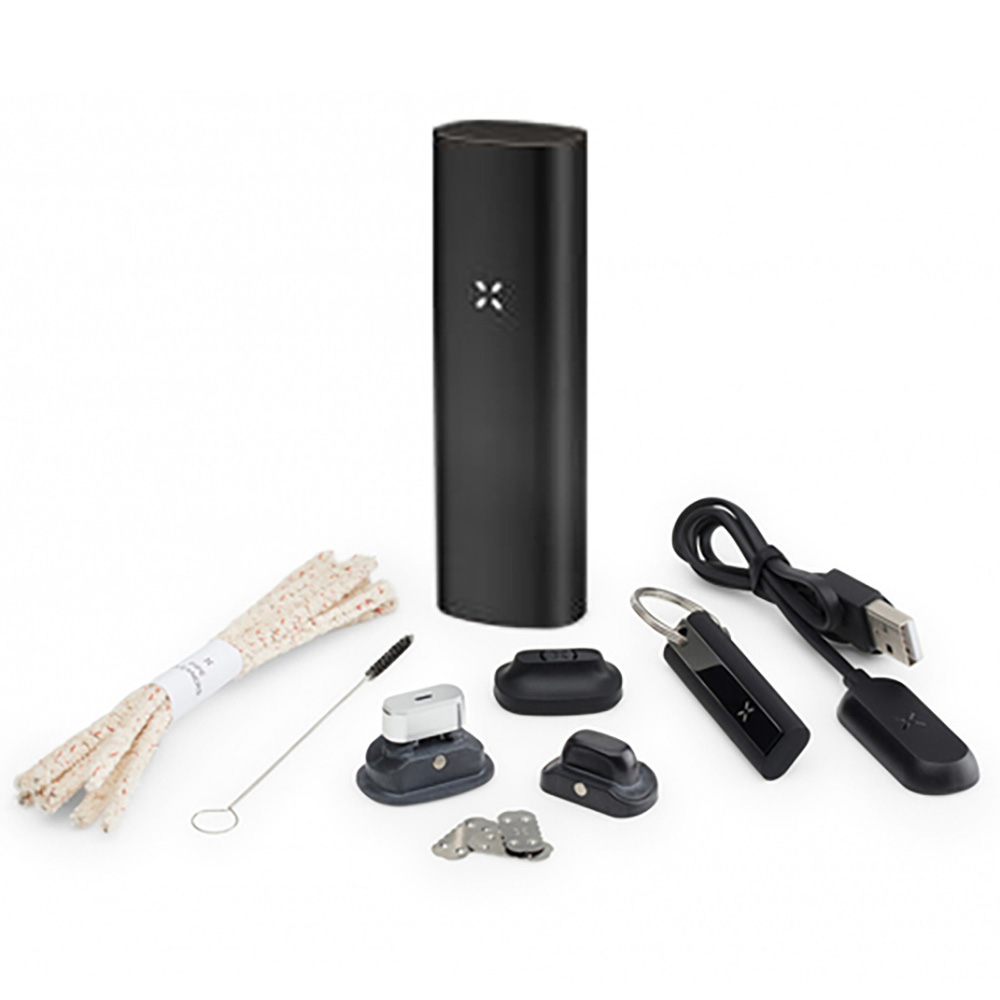 Pax 3 – The Ultimate Choice For Every Heavy Stoner
,
2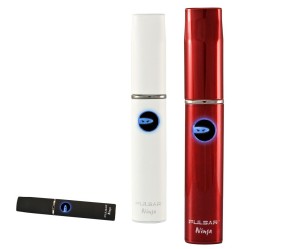 Pulsar Ninja V4 – Huge hits with a tiny wax pen
,
3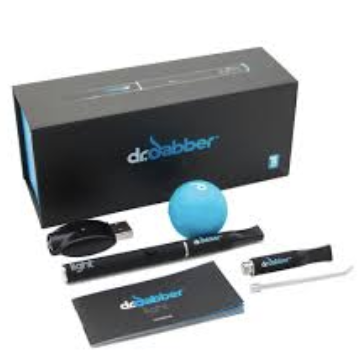 Dr Dabber Light – The ultimate dab pen.
,
4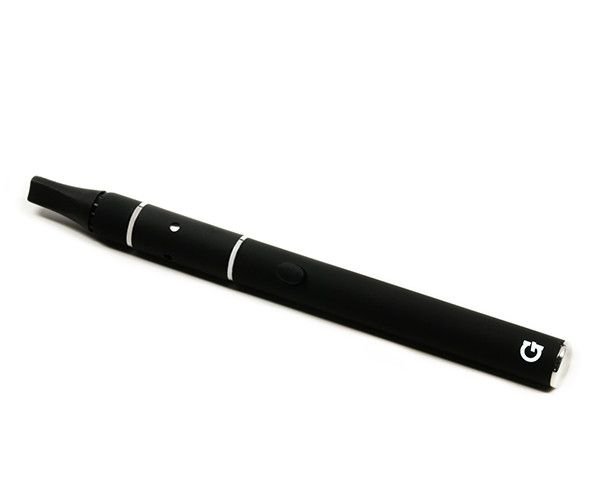 G Slim Concentrates – A stealthy & ultra slim pen
,
5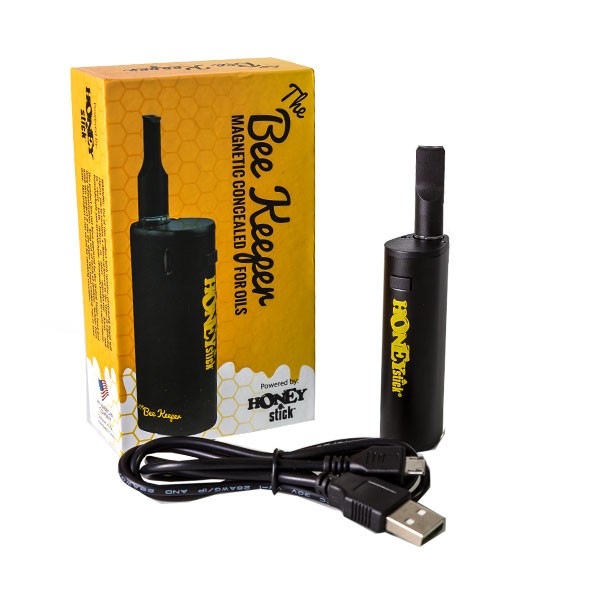 Honeystick Beekeeper – A delicious wax pen
,
6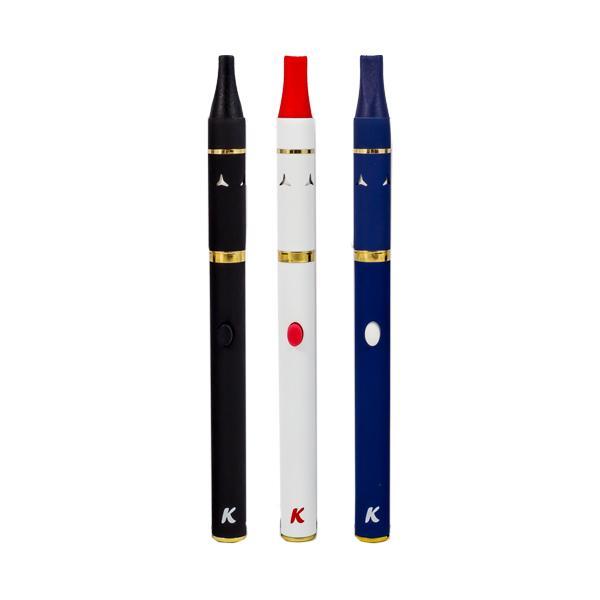 KandyPens K-Stick – A beautiful wax pen for anytime!
,
7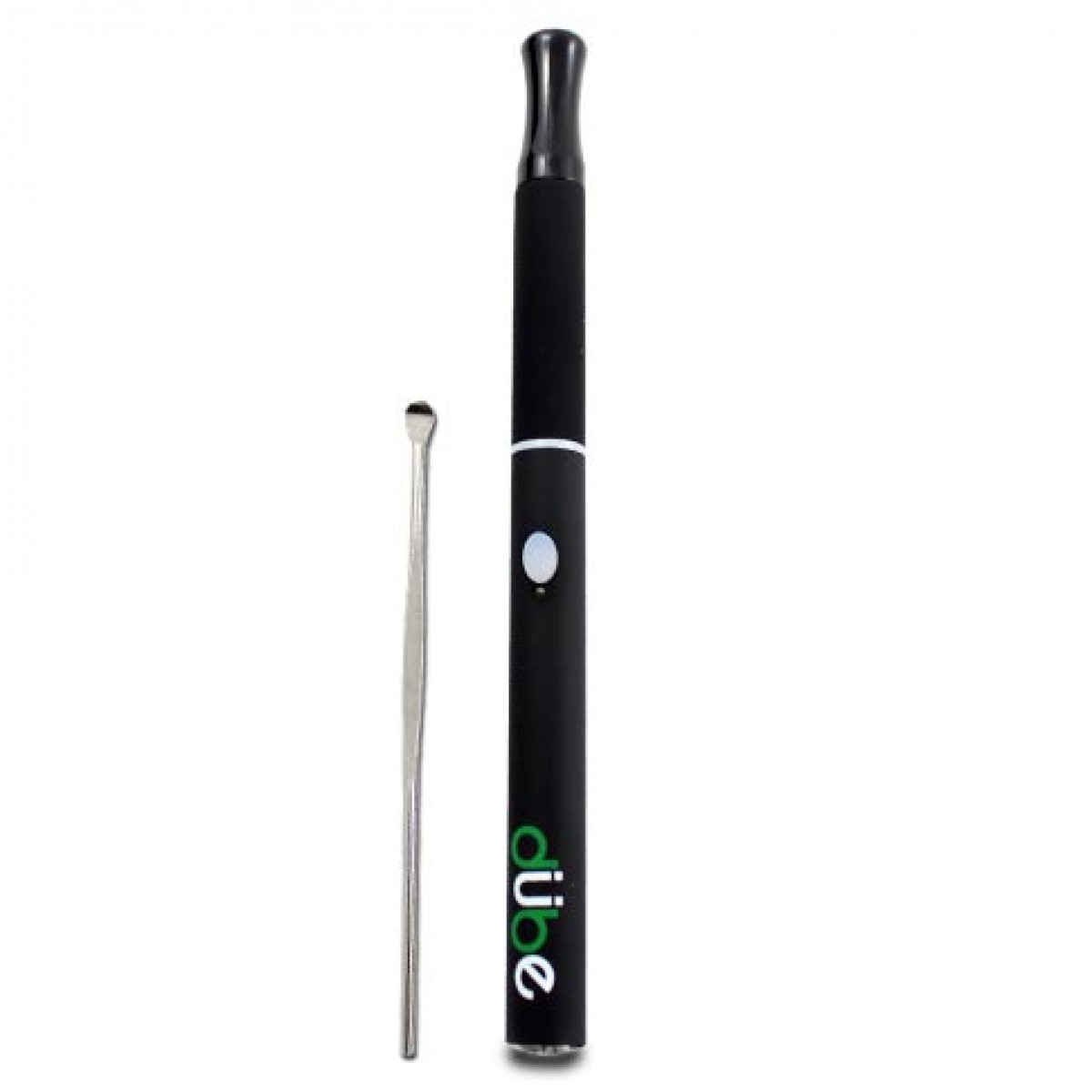 Dube Disposable – A dab pen to go.
,
8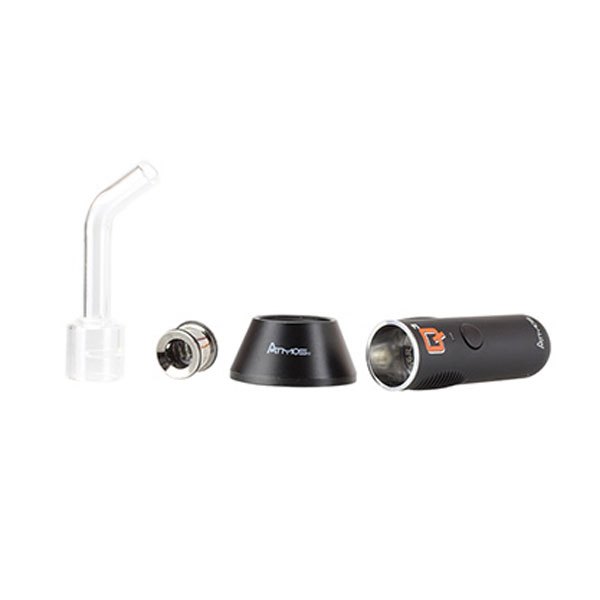 Atmos Q3 Kit – Perfect For Vaping On the GO
,
What Is A Wax Vape Pen?
Marijuana wax vaporizers are smoking devices which you can use to vaporize your cannabis extract instead of smoking it the normal way.
Many studies have proven that vaporizing your herbal concentrate can be healthier than lighting a joint. Here are some of the most important things you should know about vaping wax:
Vaporizing can have a health impact and are maybe safer than smoking wax (often with tobacco).
A good wax pen can convert more THC into vapor than an average joint.
How to Use A Wax Vaporizer?
Vaporizing can give you the strongest effect. Here is how to use a vaporizer step by step:
Step 1: Preheating the Vaporizer. 250 degrees is usually the average vaporizing temperature. You can go slightly higher or lower. It depends on the concentrate that you're using.
Step 3: Pack it up. Go a head and put your dabs or wax with help of a torch in the glass cylinder that goes on top of the heading element. Don't use too wax when you are using the vape pen for the first time.
Step 4: Get ready to vaporize. Take one good exhale and then you can start to inhale.
Step 5: Remove the remains. After you're done the concentrate should have a nice brown consistency and should not be black. If its black you burned it.
Smoking Vs. Vaping Marijuana Wax
Smoking or vaping your wax? That's the question. Which is better for you? Let's go back to the basics for a second.
A raw cannabis plant contains over a hundred different cannabinoids. One of them is THC, which is responsible for the psychotropic effects of smoking weed. Then there are others like CBD which gives you a more body high.
Naturally cannabis contain anywhere from 4 to 65% THC.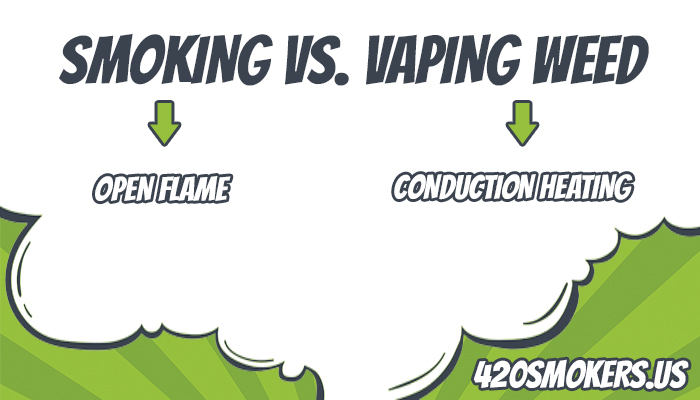 Now when you smoke a joint, you're using an open flame which is very high heat and that combustion process activates the THC. When you inhale it, your lungs will deliver it straight into your bloodstream. That's why you feel the effects of marijuana almost immediately.
Vaporizer on the other hand use a process called conduction heating where either the raw plant or an extract of the plant has direct contact with a heat source but without an open flame. It uses a lower temperature and it heats it up just enough to be able to vaporize the THC.
You still feel the effects of it but without the health problems that come along with smoking. It is still a relatively new thing so its hard to say exactly what the long-term effects are, but you don't have any outside chemicals to deal with, so it's still widely agreed to be better than smoking.
Different Sizes and Prices of Vape Pens:
When looking at wax vape pens it is best to think about the amount you smoke and where you will be using your pen most. A lot of wax pen vaporizers require consumables such as wax pen coils and vape batteries.
Some are better for stealthy situations and others more suited to comfortably puffing at home. Make sure to get a pen you are comfortable with, that gives you the required hit you desire. If you do not want to deal with consumables make sure you go for a titanium bowled vape or grab some backup coils if you go with a quartz model.
Things to Consider when Purchasing a Wax Pen Vaporizer:
When looking for a weed wax pen it is important to remember a few things such as:
wax smoke pen size
best dab pen price
best wax pen under 50
product quality
best wax pen
disposable wax pens or not
Other things to remember are:
checking which cheap wax pen suits your needs
choosing a marijuana wax pen that is good value for money
Reasons to buy a wax smoking pen:
Here are a few awesome reasons why you should purchase yourself a cannabis wax pen:
Healthy - Smoking wax in a vape pen is a lot more healthy than blazing in a dab rig, bong or smearing on your rolling papers. While most vapes still combust the wax it is still not at the extreme temps of other smoking methods.
Stealthy - One of the stealthiest and most discrete ways to smoke cannabis oils and wax. Easily stash your wax pen in your pocket or hold it as if you are just smoking an e cig. The sleek design of cannabis wax pens are perfect for any occasion where you may need to be extra stealthy.
Efficient - Thc wax pens are extremely efficient. They allow for using small amounts of cannabis wax without any wasting while being vaped. All the thc vaporizers and is consumable leaving very little waste.
Save Money - Smoking your waxes and oils through a vape pen will save you money as you will use much less wax to achieve the desired high.
Some wax pen vaporizers will give massive dab like hits while others will be more discrete and give more subtle draws. Read the rest of our guide to find one that suits you perfectly and allows you to vape wax when and where you want to without the stress or hastles that go along with dabs.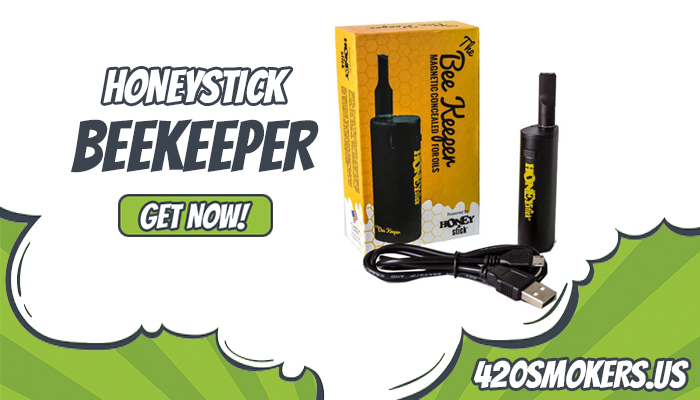 Vape For Wax F.A.Q's:
Are cheap dab pens any good?
- For the cost of them, they are pretty good. Look for companies that have a good social media following and have plenty of happy customers posting pictures and reviews of the pens to see if you like them.
How do vaporizer wax companies make vapes for under $50?
- The technology surrounding vaping and wax has come a long way in recent years with quartz becoming the norm and cheap to manufacture.
How long will does a wax pen vaporizer last?
- If you treat your pen well it can last a good few years of daily smoking, though you may have to replace the coil, depending on the wax you use, every month or more, and the rechargeable battery every 6 months.
Are vape pens legit?
- While desktop vapes and electronic dab rigs are better and more reliable, vape pens are pretty legit for the portability and price.
What is the popular and best vaporizer for wax brands?
- The leading wax smoke pen manufacturers are Grenco Science (Gpen), KandyPens, Dube, Dr Dabber and Honey Stick.
Why should I buy a cheap wax pen?
- Apart from the savings, stealth, and portability, a cheap vape is a handy way to smoke wax without too many downsides or serious investments.
What can I smoke in my vape pen?
- Depending on the pen, but usually you can smoke any THC concentrate or CBD products concentrate. 
Where can I buy one?
- You can buy one directly from their respective website. Simply follow the links in this review.
So which is the best concentrate pen?
- We recommend the Dr Dabber light as our best cheap vape pen. They a trusted name and create their bowl out of titanium. It does not require consumables and smokes like the bomb!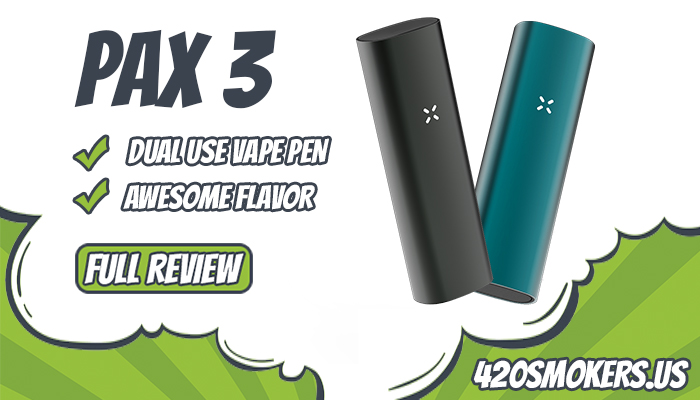 Cheap vape pens for wax are an affordable way to smoke your concentrates easily, safely and stealthy. A good cheap pen is a must have for any serious stoner that wants something to smoke on the go or in public.