Mind Grinder Aluminum Grinder – Designed to be your new go-to grinder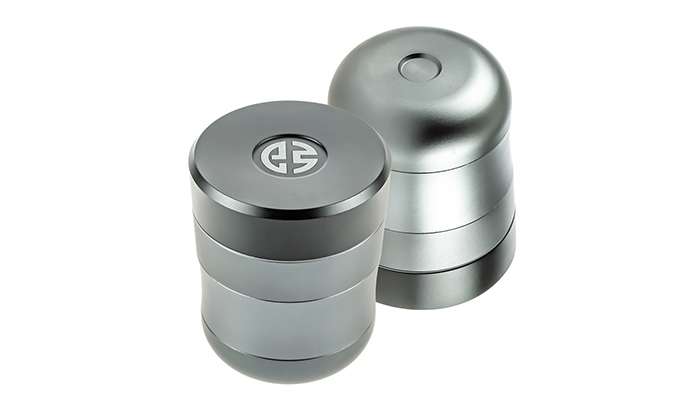 Mind Grinder Aluminum Grinder
,
If it's piece of mind you're looking for, the 4-part aluminum herb grinder from mind grinder fits the bill. Finished with a smooth brushed metal, it's both easy to carry and diligent at grinding herbs into the finest powder. Including 4 separate grinding discs as well as a herb catcher, this is professional grade grinding that fits in your pocket. It looks cool too.
Pros
Fits together well and grinds smoothly
Sturdy aluminum with cool brush-stroke finish
Separate mesh and herb catcher
Long lasting build-quality
Cons
Difficult to find
Premium price
---
A premium herb grinder
Everything about this herb grinder is premium, starting with the box. A branded cylinder with soft fabric protecting the jewel inside from any delivery scratches. Each part is housed separately to ensure that the threads don't wear out or get damaged in transit. Put it together and you've got a pocket-sized four piece grinder in brushed aluminum.
Four separate pieces
So, to break that down for you, this grinder has the two standard discs you'd expect alongside an extra two that can be used for fine grinding. The standard discs fit together, without the extra's if you're on the go.
Long lasting buildquality
At the bottom of the grinder is a fine mesh that captures the crystals from each grind into a small reservoir at the base, where it can be stored for special sessions. In use, the threads fit together nicely without any scratching sounds, whilst the herb itself won't get caught up in the teeth.
A well-made product all-round with the option of grinding herbs to an extra fine grade.
Value for money
These are premium grade products and you can imagine the box alone costing a fair few bucks to produce. That said, mindgrinder have got the long-term in mind with this grinder and you could see years pass by before having to look at a replacement.
Given the high quality build, looks and uses, we'd say it's value for money as a longer-term investment. Now all you gotta do is find somewhere that sells them.
Join the 420 Family!
Get the Latest Content, Guides & Deals.
In Your Mailbox Weekly.