How Playboy Shaped The Future Of Weed Blogs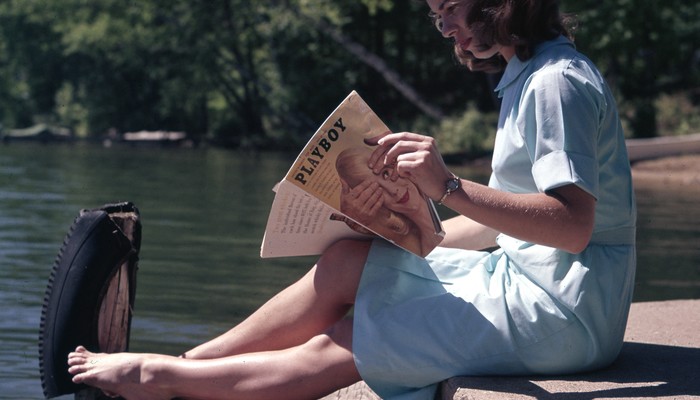 If you reading this chances are you read weed blogs pretty often.
Did you know the start of cannabis culture has Playboy to thank? I bet you did not know that at one point Hefner was donating $100.000 a year to Norml. And one of the most famous weed blogs, was started as a joke in the 70's.
The rise of weed blogs is an interesting one. Marijuana has not always been so openly discussed and the war on drugs created an environment where writers were genuinely afraid of writing about cannabis for fear of prosecution. The mindset towards cannabis was often a negative one. Mainly pushed by main-stream-media in the sake of 'the war on drugs' by the US government.
So who took the industry forward and broke the silence?
Norml – The National Organization for the Reform of Marijuana Laws.
The non-profit who's sole aim is to change the perception of cannabis and shape the public opinion on marijuana reform, was started in 1970 by Keith Stroup and received its first funding of $5000 from none other than the Playboy Foundation!
Norml has played a pivotal role in shaping cannabis culture and the decriminalization movement. By the mid-1970's Norml took off with Playboy owner, Hugh Hefner, donating $100.000 a year to keep Norml operational.
Without Norml we probably would still be living in a world where cannabis was seen as an evil drug and gateway to Heroin. With the rise of the internet, Norml has grown into a large grassroots network with 135 chapters and over 550 lawyers worldwide. The Norml website contains a plethora of information regarding cannabis laws and can help you find a lawyer if you need one.
The Norml Weed Blogs is a must bookmark for those that want to keep up to date with the latest in marijuana reform.
High Times – The Start of It All.
In 1974 Tom Forçade of the Underground Press Syndicate decided to launch a single issue magazine as a joke. The joke would be a magazine issue exactly like Playboy but exchanging girls for.. you guessed, marijuana. Who would have they it would become the most respected magazine and weed blogs ever!
High Times was a one-shot lampoon of "Playboy"… It was a huge success, with its circulation was audited by ABC and sold 550,000 copies (and the audit didn't include another 60,000 copies) within a year. Advertising sales grew at a feverish rate with the addition of Richard Laskey and Shelly Schorr to the staff. Schorr, an Alternative Press Syndicate member, brought advertisers to the magazine from record labels, stereo equipment and "straight" advertisers that they wanted and weren't getting. Laskey became the co-publisher when the magazine grew its circulation, advertising and started 3 new titles. – Joe Armstrong, publisher of National Lampoon.
The Hightimes magazine started the counterculture and quickly moved online. Publishing 1000's of articles, books, DVD's and hosting multiple festivals. High Times is the most well-known authority in the cannabis niche and one of the top weed blogs. If you have not bookmarked High Times, do it now!
Launching in 1995 as a print magazine and website in Canada, Cannabis Culture was first known as Cannabis Cannada. Before that, it was simply a newsletter entitled "The Marijuana & Hemp Newsletter" launched in 1994. It was not until 1998, 12 print issues later, that the name was changed to Cannabis Culture. Without the heavy advertising done in HighTimes I do not think Cannabis Culture would be where it is today.
Before pulling the mag off the shelves in 2009, Cannabis Culture had a distribution of about 100.000 copies per issue across America.
In 2010 Marc Emery was deported to the United States and faced charges for selling cannabis seeds online. His wife, Jodie Emery, took over the Cannabis Culture weed blogs and has grown it into one of the largest marijuana websites on the internet.
Operated by The Denver Post, The Cannabist pushed the envelope when it came to weed journalism. The Cannabist became famous for employing Ricardo Baca, an American journalist, which become known for being the first full-time marijuana editor for a major American newspaper. Fortune magazine ranked Baca as one of the seven most powerful people in American cannabis.
Ricardo's work in Denver is unparalleled and he remains one of the biggest driving forces behind the legalization movement. What started as a small side project has grown into a massive website that dominates cannabis culture.
Both Cannabis Culture and Hightimes promoted Ricardo's stories and Journalism and pushed this site to the top.
They often break ground with news stories and their journalism is top notch! Do yourself a favor and check them out cannabist weed blogs if you haven't already.
Founded in 1985, by Ben Dronkers, Sensi Seeds is the oldest Seed Bank on the planet. If you have purchased cannabis seeds online you have probably come across Sensi Seeds. Well known for their extremely potent strains and reliable seed, Sensi Seeds is not only a Seed Bank. They have a really great blog as well!
Often breaking stories on the latest cannabis growing techniques they also cover the latest products and extraction techniques as well as culture pieces and articles to entertain any stoner. I do not think there is an issue of High Times that has not featured sensi seeds. The two companies have provided extremely great support for each other and continue to thrive.
Recently they have started to sell CBD based products and often write about CBD and various health benefits of hemp.
Founded in 2010, The Weed Blog started as a place to engage the community and discuss marijuana in the open. The blog has an open stance on cannabis, both for medical and recreational. It covers both cultural stories and up to date cannabis news.
Johnny Green from the Weed Blog is the heart of the website and is known for his advocacy towards the legalization of pot. As such he has been able to gain a massive community of stoners that share his thoughts.
With almost 2 million page views a month, The Weed Blogs must be doing something right.
If you google search 'hail mary jane' or look at old archives of their logo you will notice a rather odd phrase:
"This Was Supposed to Be a Sports Blog… And Then I Got High".
This weed blog has certainly grown in strength since then. Hail Mary Jane started out one thing, but it is now one of the top loved blogs in the niche. With product reviews on the latest products and strains to helping you get a medical card, Hail Mary Jane seems to cover it all.
A great community and entertainment website that should be on your list of daily reads.
Leafly – Top Quality Stoner Culture
If you have ever searched for a particular cannabis strain you have most likely come across Leafly's weed blogs. Founded in 2010 by Scott Vickers, Brian Wansolich, and Cy Scott. Leafly has quickly become one of the largest marijuana websites in the world.
By building a legitimate strain resource, these young engineers were able to craft a platform. A platform that grew to 2.3 monthly visitors by 2012 before being acquired by Privateer Holdings.
The content team behind Leafly are by far the most friendly and awesome people working in this niche. I can only imagine their office filled with the thickest weed smoke while young millennials get high and produce great stoner content all day.
If you decide to only check out one blog on this list make sure its this one!
The youngest website in the list, having only launched in late 2015, is Snoop Dog's own, MerryJane. Snoop Dog teamed up with entrepreneur Ted Chung to launch the Merry Jane media platform. It mainly concentrates on "a cross-section of cultural and lifestyle features, along with the latest cannabis policy, business, and economic news," according to a news release.
With the recent launch of Snoops cannabis range, Leafs By Snoop, Snoop Dog is entering every space in this niche as he can, and so it makes sense to run his own media site so that he can cross promote various brands and get a piece of the media pie.
With a huge marketing budget and great writers on staff, Merry Jane has quickly garnered a ton of loyal readers that love the content.
Join the 420 Family!
Get the Latest Content, Guides & Deals.
In Your Mailbox Weekly.
Latest Blogs: