Puffer Box – Gorgeous Glass, Amazing Accessories!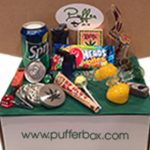 Puffer Box
,
The Puffer Box has a great variety of goods to keep you happy though the high may not last too long as it contains very few essentials to last throughout the month.
Pros
Glass, Munchies and Specialty Item
A great mix of items
Incredible value with a glass piece in every box
Cons
Some months don't feel like as much value as others
May not be enough essentials for heavy stoners
Not very exciting every month.
---
The Puffer Box comes with great value at only $25 per month
A Puffer Box comes each month with awesome new products like munchies and sweet treats, glass products, rolling papers and stoner accessories! In this unique weed box, you can find great items such as bongs, pipes, bubblers, grinders, sploofs and much more.
Every Puffer Box gets delivered right to your door in a discreet package each month. This box includes 5 – 8 items for you to try out. You can expect anything from dank smoking accessories to gorgeous glass products.
We like about the Puffer Box that there is always a great mix of items in their boxes. Also, the incredible value with all the glass pieces in every box is another reason to get this monthly weed box.
If you are a heavy stoner this box will not have enough essentials included for lasting for a whole month. Either way, this box is definitely for people who want to try out a subscription box for stoners.
A Weed Box for glass lovers
As we have mentioned above already, this box is especially for people who love to enjoy a good bong, pipe, or bubbler. Puffer Box places value on their glass items and products. There are always beautiful glass pieces included in every box that you get from them.
We can recommend this 420 subscription box to beginner smokers which are always in need of new essentials and smoking accessories as well to stoners who like to get monthly top quality glass products every month.