Pulsar Ninja V4 – Huge hits with a tiny wax pen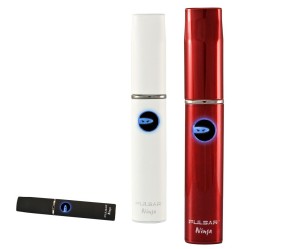 Pulsar Ninja V4
,
The price of this unit puts it on a par with the Dr. Dabber Light. If I had to choose between the two, I would go for this one. The reason is that ceramic coil. You just can't beat smoking from ceramic.There's also a larger bowl which means you can load up the bigger hits.
Pros
No exposed coils or wick
Large hits
Wide Ceramic bowl
Rubberized
Cons
More expensive than other cheap wax pens
Wax and oil can leak out if you hold it sideways while in use.
---
I've never actually seen a good ninja (the fighter not the brand). I guess that's because if a ninja is doing their job right, you'll never see them coming. And that's the concept for Pulsar's latest product the Ninja V4 dab pen. It's a little chunkier than some products in the same category but the element of surprise, a ceramic plated atomizer, really makes this one stand out.
Cool design and a lot features
Portable dab pens are being expanded into two broad markets. The first is for those on the go. Someone looking for a quick high without the cost. The other market is for those who want to smoke on the go all the time. The Ninja V4 is in the latter category and represents a long-term investment for dab enthusiasts.
A serious investment should always be backed up by some serious kit inside. The V4's shining light is the ceramic plated atomizer. Not only does ceramic last a huge amount of time, they regulate heat naturally. That means you get a slow burn that gets the most smoke from the wax that you feed it. A ceramic plate won't burn the wax. It keeps everything inside the unit clean and fresh, which translates to each hit you take.
The only sore spot with ceramic is that it takes a little longer to heat up. The Ninja V4 takes a full ten seconds before you can start drawing smoke. The flip side is that it stays hot, meaning you can continue to draw even after the power surge finishes. The smoke is superb. Huge amounts of cloud can be inhaled whilst, thanks to the residual heat, you can really load up the wax.
The issue with most pens is that the chambers are just too small to really deliver a satisfying hit. Ninja address that problem by providing a much larger bowl than their competitors. Sure, it makes the product that little bit wider, but it's still portable and will fit in your pocket with no problem. The bigger hits are more than a worthy trade-off for a slightly bigger hit.
Stoners love free extras
Sometimes I meet smokers who only have one way of smoking. But I meet smokers who mix and match a lot more often. This pen can be filled with both wax and liquid. You can carry a couple of tanks with you, one for product and one just for flavor. I like versatility in a product that costs a little more. With this one, you get a lot of bang for your bucks.
Hidden extras are always nice to find a new product. Ninja throw in a sleek carrying pouch, retractable charging cord alongside a cleaning and loading tool. There's a lot to have fun with when you're taking it out of the box which is always nice when you're spending more.
The most impressive thing though is the battery. A whopping 350mAh battery powers this unit which is almost double what most products on the market are using. Part of that power is going to get slurped when you're heating the ceramics, but you'll still get a long battery life from this.
Join the 420 Family!
Get the Latest Content, Guides & Deals.
In Your Mailbox Weekly.