PureZone 3-in-1 True Hepa Air Purifier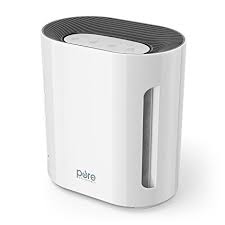 PureZone 3-in-1 True Hepa Air Purifier
,
PureZone 3-in-1 True Hepa Air Purifier: A small unit that packs a serious punch
Pros
Whisper quiet operation
Compact size
Easy to set-up and replace used parts
A best-buy on many websites including Amazon
Triple threat filtration system to remove all odors 
Cons
Not suited to larger spaces
Difficult to find replacements for the UV bulbs
emits a burning smell during the first few days 
---
This mini-air purifier from Purezone is stronger than it looks. Using a 3 in 1 filtration system that includes True Hepa Carbon filters, UV-C light and Sanitizing gas for odors. Probably not the prettiest thing you'll see today, but a very effective air purifier nonetheless. Compact, easy to set-up and store with a decent price tag. Overall we're pretty happy with this offering from Purezone. 
Brand
Purezone's portable range is a little bit limited and should really only be used in smaller spaces. This is mainly due to the amount of air it pulls. Purezone themselves have had many years experience in the industry and offer an astonishing 5 year warranty on each unit. 
Features
So the most obvious one is the triple stage filtration unit. True Hepa filters remove impurities as small as 0.03 microns, which is impressive. What's more impressive is the carbon filters in True Hepa filters which are ideal for removing smoke. The UV will be a huge help to asthmatics but it can get annoying given that there's no option to turn it off. 
Value for money
We'd classify this as a mid-range air purifier. It's nice, compact and the 5 year warranty certainly takes most of the pressure out of the purchase. Having said that their are a few irritating features whilst the overall power is only suited to small rooms. The price makes it ideal if you're looking to test out an air-purifier for the first time before investing in something a little more substantial.