Santa Cruz Shredder Aluminum Herb Grinder – A Shredder Grinder with Power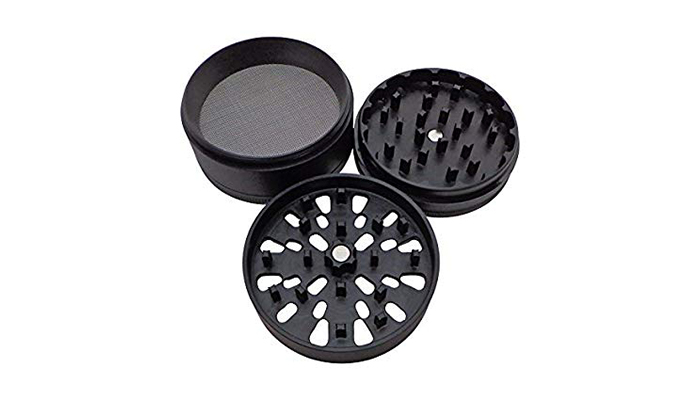 Santa Cruz Shredder Aluminum Herb Grinder
,
Sometimes grinding the old fashioned way is all you need. Santa Cruz upgrade a timeless classic with medical-grade manufacture in a simple 2-part grinder. There's is a pollen catcher, and you get premium quality with an affordable price tag. There's no shame in doing the simple things right, as Santa Cruz prove over and over again.
Pros
Medical grade manufacturing quality
Razor sharp diamond teeth
Lifetime guarantee
Unique threads
Earth magnets in the lid
---
Great working 2-part herb grinder
There's no shame in getting back to basics if you do it well. That's what Santa Cruz have achieved with this 2-part herb grinder, complete with rare earth magnets and a lifetime guarantee. Made in the USA, this premium grinder will make you smile every time you use it.
This grinder comes with features!
At first glance it looks like every other two-part grinder. Diamond teeth, nylon friction ring with a magnetized lid. But when you delve a little deeper you see how much effort and quality has gone into each of those components, which add up to a seriously high-grade product.
The magnet, for example, is a rare earth magnet that holds everything together nice and snug. The threading is uniquely designed to push the teeth together. Those diamond shaped teeth are not only razor sharp, but laid out in a unique formation to maximize grinding power.
Supreme build quality
Yes you do get a pollen catcher. What you get is a supreme quality build with more to it than meets the eye. Certain aspects, like the unique formation of diamond teeth and thread take this 2-part to the next level. For Santa Cruz, it's the definitely the little things that count.
Value for money
Probably more than you'd expect to pay for a 2-part grinder, but the lifetime guarantee more than offsets the cost. Break it down and its less than a buck a year for an item that you can take with you anywhere. Super well-made and well worth the initial investment.
Join the 420 Family!
Get the Latest Content, Guides & Deals.
In Your Mailbox Weekly.