SharpStone Herb Grinder – Gets the job done with minimal fuss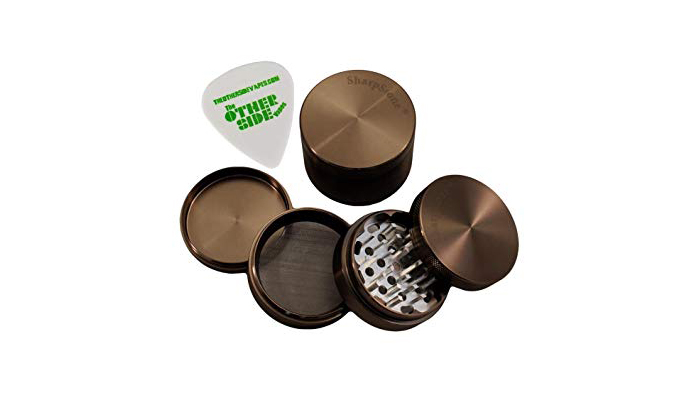 SharpStone Aluminum Window Herb Grinder
,
Nothing like a few windows to add wow-factor to a grinder. Sharpstone's 2-part grinder is confident enough to let you see its work, grinding sticky herb into dust in a matter of seconds. Armed with a set of diamond teeth, this comes complete with a carry pouch for easy transport.
Pros
Affordable price tag
Windows to witness the grind
Sharp teeth
Carry pouch
Magnetized lid
Cons
No pollen catcher
A little on the simple side
---
SharpStones aluminum herb grinder are one of the best on the market
If you're looking for an eye-catching grinder that you can take anywhere, but you don't want to take out a loan to get one, Sharpstone's 2-piece window grinder is for you. Complete with a cool-looking carry pouch this diamond-toothed beast is capable of grinding your herb to dust and is available in a range of colors.
This grinder comes with unique features
So the most eye-catching aspect is the windows which is astounding to get on a grinder in this price range. Beyond that though, it's slim pickings. The thread has no extra band which makes it more than a little squeaky, something we feel will only get worse with time.
On top of that the teeth are standard diamond shapes but, thankfully sharp enough to get the job done. The carry pouch is a nice touch, but doesn't add any value to the main parts which could do with a little more innovinnovation.
Outstanding build quality
It's put shaped from a robust aluminum which tends to last a long-time. The lack of a nylon ring is something that causes concern as we can see this getting difficult to turn over-time. That said, we're sure it will be a useful tool as a supporting grinder rather than your main weapon of choice.
One of the cheapest grinders you will find
Given the price is so low, of course it's value for money. Light on features it maybe, the build quality is enough to see it through. Who cares about a nylon ring when you're just looking for something that's easy to carry and capable of getting the job done.
Join the 420 Family!
Get the Latest Content, Guides & Deals.
In Your Mailbox Weekly.