How to use a Nectar Collector for Cannabis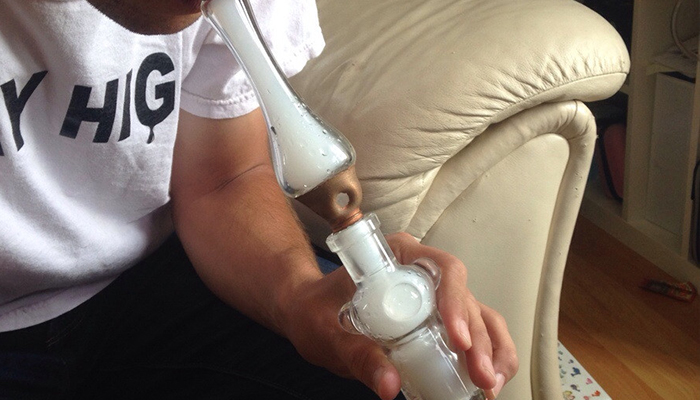 Nectar collectors are the most recent innovation for stoners to smoke cannabis concentrates such as budder, shatter, or wax. Regardless of how new they are, they offer a unique vertical vaporizing process which allows you to gauge the intake of your dab each time without wasting excess concentrates, and this is why they are gaining popularity. However, they come with a huge price tag amounting from $100 to $1000 depending on the brand name. Apart from monetary challenges, you could find yourself spending a lot but unable to use them effectively, but you have come to the right place because we will tell you how to use a nectar collector for cannabis.
What is a nectar collector?
A nectar collector is a tool that stoners use to smoke cannabis concentrates, and it is small thus fitting excellently into a stoner travel kit. It has three parts which you can dismantle anytime you want to store it in your travel kit; the 10mm sized titanium nail, the percolator, and the mouthpiece. It's about 6 inches long and comes with a durable borosilicate glass which is resistant to extreme heat. In layman's language, it comes with a glass body shape that resembles a syringe, and the embedded percolator is used for filtration in case water is applied. At the base is a mouthpiece which slides into the top as well as a titanium tip used as a dab nail.
How to Use A Nectar Collector
1. Add water to the base
If you wish to use the nectar collector effectively, you must start by removing the titanium tip and the glass mouthpiece before adding water to ensure that no water is trapped in the tip. Then secondly and slowly fill the base with water and make sure that it's halfway filled as this will allows for the best percolation.
2. Check water level
With the nectar collector, you can view what you are adding and if you want to use it effectively, check the level of water and ensure it's slightly less than half-full as this will allow for optimal percolation.
3. Add glass mouthpiece to base
At the base, you can add small amounts of joint wax which works efficiently in preventing the mouthpiece from sliding into place when in use.
4. Add nectar collector titanium tip to the base
After heating the collector with a torch, you can apply a joint wax like a faint adhesive which keeps it in place when in use.
5. Gently heat the titanium tip using a butane torch until you get a light red glow
As stated earlier, nectar collector is the latest innovation and because we want you to use it professionally, you need to horizontally hold the nectar collector when heating as this will avoid leaks. Also, avoid overheating the tip because excess heat can cause cracking.
6. Inhale while the tip is heated and remember to submerge tip in dabs
The nectar collector titanium tip allows you to only use the amount of dabs you need ensuring that there is no wastage. And last but not least, remember to exhale.
Heating tips
It goes without saying that heating the titanium tip is the simplest thing but again the most complicated part. And because we care so much about you, we will give you the tip on how heating is done professionally. You need to understand that the nail is the only part to heat with a torch. This torch is also small and can fit nicely in your smoking fit and you must heat the nail to a bright red before it gets ready. The flame of the torch comes in different colors and by placing the nail between the orange and blue colors, it will get optimal heating. And after 3-4 seconds, you can touch the nail to the edge of the marijuana concentrates and smoke it, otherwise if you wait for too long, you will end up wasting your product as it will melt on the nail.
Final thoughts
The nectar head is the most recent innovation and one of the best pothead gifts for the stoners. In addition to fitting nicely in the stoner's kit, it gives dabbers an opportunity to take part in their favorite way of smoking weed while moving from one place to another. If you like partying, pull it out in the middle of the party and you'll become the talk of the day and also make a bunch of new friends. However, it's important to understand that it involves hot stuff and you should always be careful.
Join the 420 Family!
Get the Latest Content, Guides & Deals.
In Your Mailbox Weekly.
Latest Blogs: