Volcano Digital – The Desktop Vaporizer For All Needs!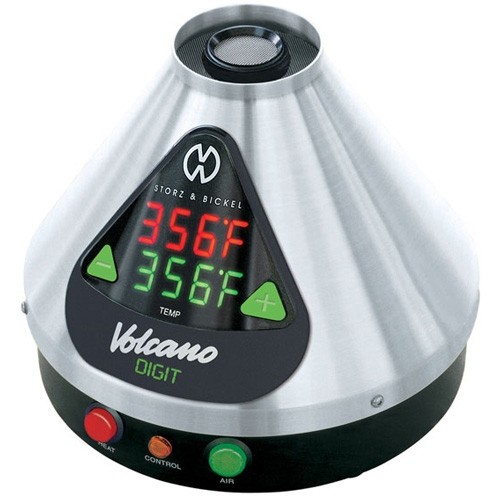 Volcano Digital
,
When it comes to complex kit, you're in safe hands with a German manufacturer. Storz and Bickle's desktop vaporizer first hit the market in 2009 and has had little competition since. Clocking in at over $500 the first question you'll ask is: "what's all the fuss about?".
Pros
Balloon system makes it easy to use
Very easy to clean
Reliable temperature regulation
Cons
More expensive than other dry herb vaporizer
3-year warranty is a bit short
---
Simply put, this is the finest piece of home vaporizing equipment on the market today. It's built like a tank, has a stunning range of options and delivers the thickest fog outside of 19th century London.Here's our rundown of a true heavy-weight in the industry.
A desktop vaporizer with tons of features
The Volcano digital looks like something you might find in a science lab. A large chrome cylinder with two heavy duty switches and an LED front facing display- which replaces the traditional temperature dial found on older models- is not much to look at. It's more industrial device than home decor delight, but the design is a robust one that's simple enough to use despite the advanced technology underneath.
The Volcano digital can be brought in two styles. The first is with an easy valve top-piece, and the second with a solid valve. Although some connoisseurs might tell you that you have to use the solid valve, which allows you to make balloons of any size up to 32 liters, the easy valve provides a well sized balloon too (12 liters) plus, as the name suggests, is easier to use.
A product like this one is designed for big sessions. Each heating element is a ceramic material with a titanium coating. Not only, does it heat up in just 3 minutes, the pieces retain heat which reduces the power used and is handy for multiple balloons. The upper temperature is 230 Celsius (455 Fahrenheit) but the airflow helps to generate thicker mists than almost any other product; provided you grind it finely enough.
Easy to clean and use
Out of the Easy Valve box, you'll get 5 disposable balloons. They're well made with a lifespan of around 4 months each. Wit, the solid valve you get just 1 balloon tube which can be expanded with 32 liters of pure haze. There's a handy cleaning brush included with each set and, since all parts can be disassembled, it's relatively easy to keep it good as new.
There's not too much to choose between the Classic Volcano and the Volcano Digital. Performance-wise they're much the same. The LED screen is a little easier to get precise temperatures rather than the 10 options provided on the old wheel. What separates them is the accuracy of temperature. The LCD is far more accurate in temperature adjustments which means, with time, you'll be able to discover your specific, perfect-temp fog.
In the end, the true testament to this brand is its users. Type Volcano digital into Google and you'll find hundreds of happy smokers. The durability is what really stands out with a lot of the parts registered as industrial grade. There's also five patented technologies at work to deliver a perfectly smooth flavor. Each unit is guaranteed for two years by Storz and Bickle but can be expected to last a decade. A solid investment.