Weed T Shirts For Every Stoners Collection
These weed t shirts will get you looking dank.
Weed t shirts have come a long way from just tie die hippies making their own. Today dozens of brands produce top quality cannabis tees and as proud stoners we should be repping the goods. A good weed tee can also lead to some of the best smoke outs of your life as your fellow stoner will be able to identify you in a crowd. If you in a state that marijuana is still illegal you may way to only wear some of these when you are NOT carrying bud.
Let's go through some of the top available tee's for the best prices. Perhaps you will find a stoner gift for him or a stoner gift for her amongst these weed shirts.
I like big blunts and I cannot lie.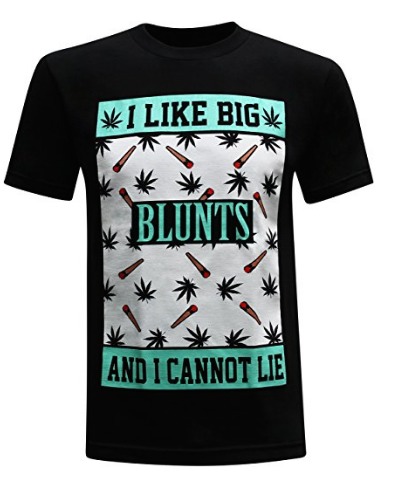 This 100% cotton California Republic tee is classic and starts at only $5 for a small! With the classic blunts and leaf print with the slogan popped across like a dank meme, the "I Like Big Blunts And I Cannot Lie" are all American weed t shirts that will make an awesome addition to your collection.
Addicted.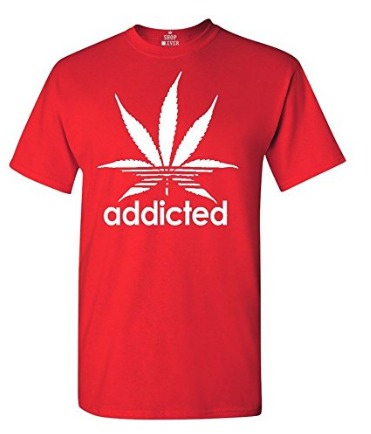 Exclusively from shop4ever and starting at $9 these are awesome! Grab one size up though as I bought my usual size and was left with a tee that was way too tight. This shirt is very high quality and mine hasn't faded for the few months I have had it. Show you addicted to the mary jane with the Addicted weed t shirts. They come in hoodies and sweatshirt designs too!
Just hit it.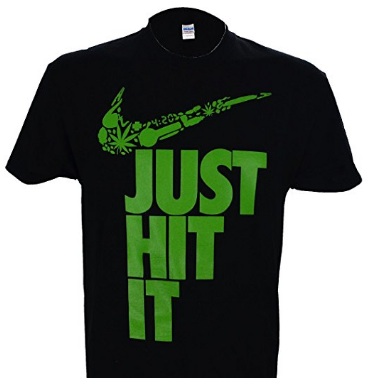 The Nike parody 'Just Hit It' is a classic design. And the detail in the 'tick' is outstanding. A awesome marijuana t shirt to give as a gift or add to your weed t shirts you already have. The Nike parody shirt starts out at $9.80 with free shipping included.
In weed we trust.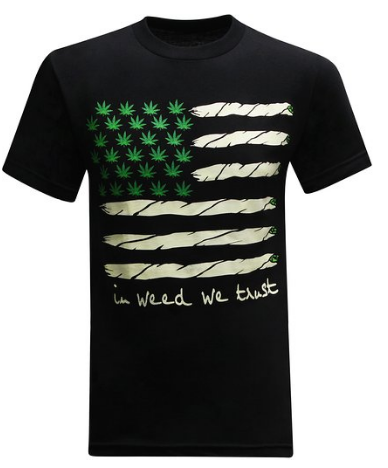 The American flag has never looked so beautiful to a stoner than this. Replace your stars and stripes with weed leaves and blunts with the "In weed we trust" weed tee. Another American made 100% cotton California Republicmakes these top quality weed t shirts a stoner must have!
Best Buds for couples.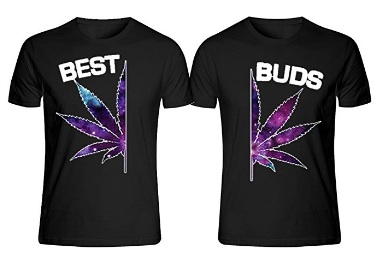 If you want to take your cute couple outfits to the next level try out these "Best Buds" stoner t shirts. They look awesome and are great for parties to always be able to find your partner for a sesh. The detail and prints are stunning and these tees are a steal at around $12 for the pair.
Weed Full Print.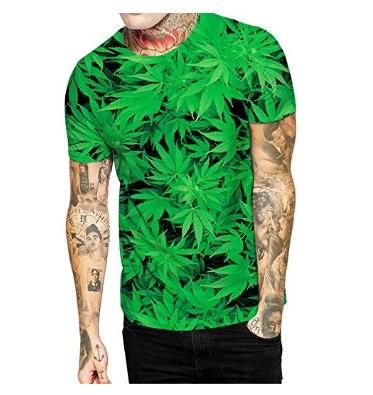 For those that just don't give a f*** there is the full printed weed t shirts. Great for anyone that dares to rock it. The reviews are mixed and people say the fabric on this tee is a bit stretchy and low quality so be aware of that before you buy it.
I'd hit that.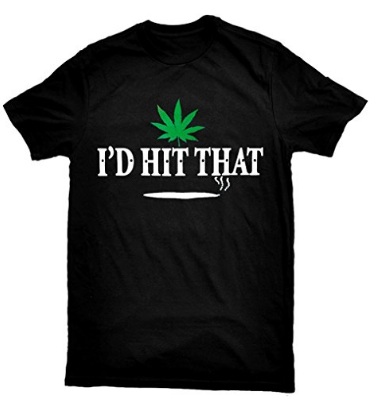 A high quality black t shirt is essential for stoners and this one fits the bill. A great fit at $12.95 makes the "I'd hit that" an affordable quality stoner t that you will end up wearing a lot.
Hanging with my buds.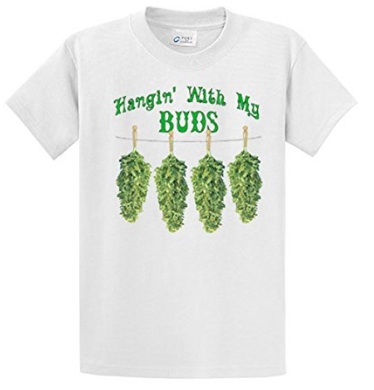 We all have a best bud that we smoke with and this marijuana t shirt design will make a great gift for your best bud. Awesome quality and amazing print design, the "Hanging with my buds" starts at $12.99 with free shippingfor a small. Everyone will laugh when they open up a gift with one of these inside and will be wearing it shortly afterwards.
The Marijuana Tux.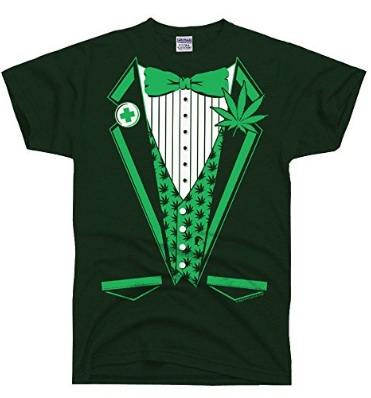 Who said dressing like a stoner couldn't look smart? Grab one of these weed t shirts from DirtyRagz that looks like a tuxedo and pop a blazer over it. You will be the most stylish stoner of them all in this. At $16.95 for this professionally screen printed t that holds its colors makes this an awesome weed tee design.
Smoking Blunt Skull.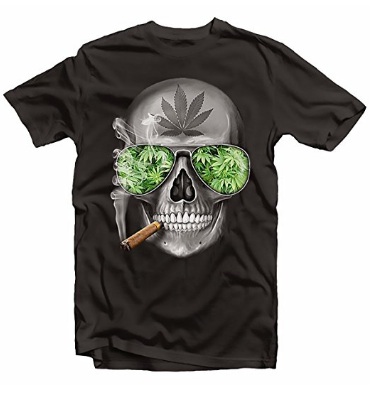 If you looking for a tee with an awesome graphic look no further than the smoking blunt skull. This design has intense detail that pops right off the shirt when you wearing it. Definitely a stoner recommended t shirt, wearing this you will most likely get a lot of comments from the crowd. At $23.95 a bit on the pricier side but well worth the magnificent artwork and high quality print.
Happy Holidaze Ugly Sweater.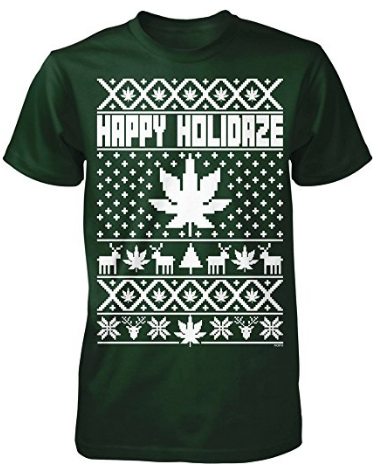 If you hate wearing sweaters on Christmas but your family insists on it grab one of these ugly sweater tees. The 'Happy Holidaze' version is embezzled with your favorite leaf and features that Ugly vibe everyone loves so much. A great gag gift for your stoner buddies on Christmas too. At only $13.95, its worth the price just to say "I already have a sweater that I am wearing thanks.".
Grown in…

If you live in a legalized state or want to give someone a dank gift from a state that legal grab one of these "Grown in.." cannabis t shirts.  Sure to start a conversion anywhere you go, at only $15.99 with free shipping, these shirts are a great way to show your pride in marijuana legalization.
Backwoods Honey Berry Cigars shirt.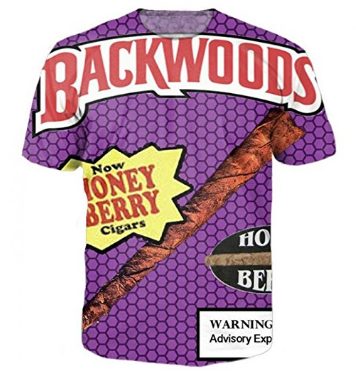 While not a full on weed tee, this design will sure tell your fellow stoners you smoke. These cigars are often used for blunts and so they sure to start a conversion wherever you go. Loud as f***, this tee will get you noticed for sure so don't wear it around police if you holding! at $24.99 its not bad considering the quality and full print.
Roll that ish.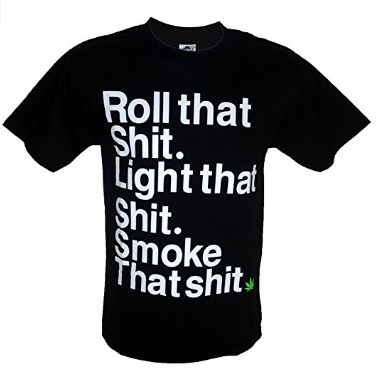 Roll that sh*t, Light that sh*t, smoke that sh*t. I am sure we have all used this phrase sometime in our stoner lives. A phrase to live by really. A high quality tee at $13.99 there is not much to say other than to buy that sh*t.
Sour Diesel weed t shirts.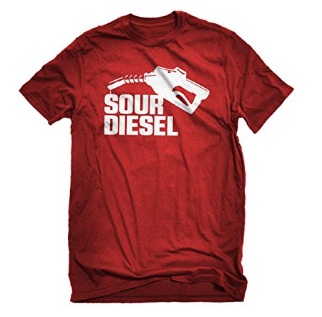 High quality tees discounted down to $12.98 and according to the manufacturer:
Tailored to last through even the fiercest of smoke sessions with the dankest of nugs.
Great for the stoner that doesn't want to blatently say they smoke weed or get high, the Sour Diesel shirt blends in but every true stoner will understand. Sure fire dank shirt that you can wear anywhere.
Tie Die.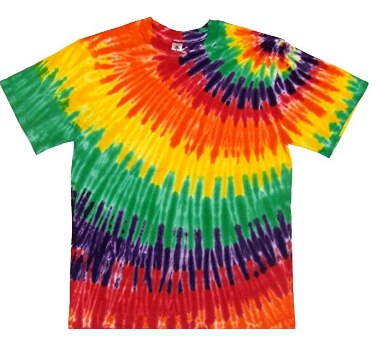 Ok so if you really want to get yourself a tie die tee there is no need to make it yourself anymore and risk the color seeping into all your clothes each wash. Buy a high quality printed version for $21. The colors will last and leave your tie die looking great. With many styles and colors to choose from, you could stock up if you inclined to go full stoner.
High.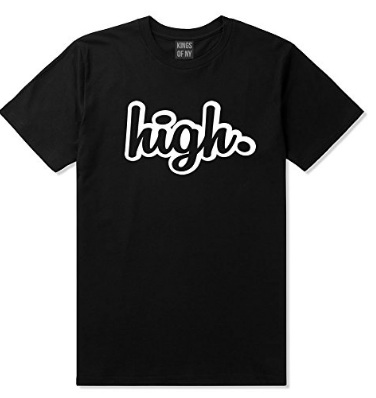 Kings of New York know how to bring a stoner shirt that is simple yet full of swag. High is understated and yet beautifully stoner. Grab one for $14.99 and rock high.
Let us know your favorite weed t shirts below so we can keep this list updated with the dopest tee designs around!
Latest Blogs: